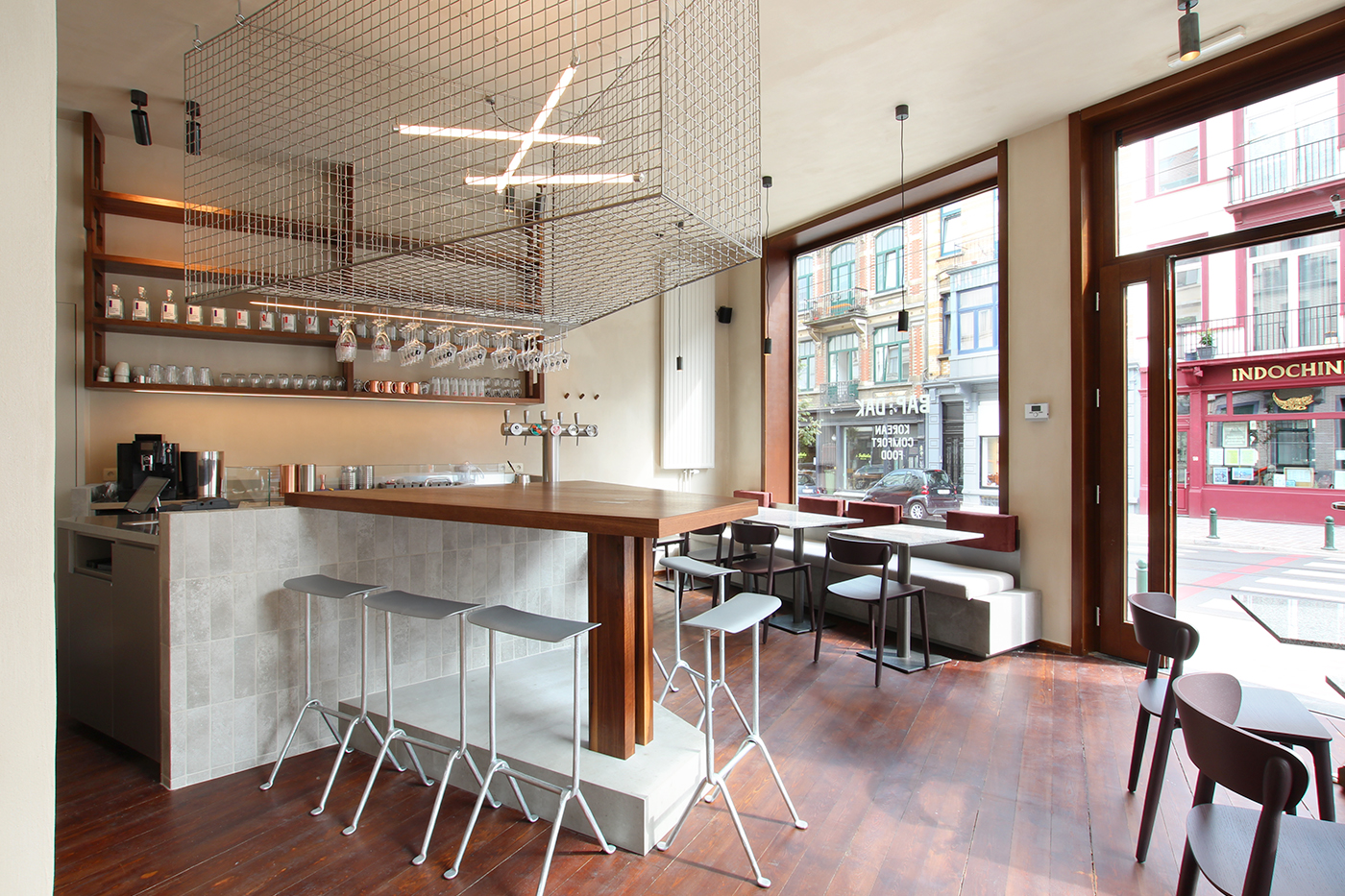 Rue Lesbroussart 55
1050 Ixelles – website
Thuesday to Sunday from 7pm to 10pm
 starters : 6 – 10€
dishes : 15 – 19€
Weeks that we go by, mentally noting every new detail, and stumbling around wondering if this new place is going to be good or not. And then a couple of weeks ago, the words Bap & Dak appeared along the façade. Just enough to let us know it would be a Korean counter.
Bap & Dak opened last week, it's just as good as we could have imagined, and it's Stefaan's very first restaurant business. Freshly back from London, he arrived in Brussels knowing he would open a restaurant, a concept he had there, but missed over here.
Stefaan is a Korean food lover, but couldn't seem to find a true good bibimbap in Brussels. Nor a decent fried chicken, like the one they make in Seoul. When launching Bap & Dak, these were the two items he had in mind. But the mono-dish concept quickly evolved into a Korean counter, offering four starters, four mains, and a few sides. But also plenty of Brussels-made draft beers, Soju, delicious Brussels Mule made with Brussels vodka, and some natural wines, just in case.
On our first visit, it's love at first sight. We loved the pajeon, a thin savory pancake with spring onions and kimchi (8€) and the incredible fried chicken (9€), which we ate with our fingers. As for the mains, the kimchi fried rice served with an egg (16€) was simply explosive. But the bibimbap, too bland for our taste, was – ironically – a bit left out. Out of genuine professionalism, we try again two days later, with a Dolsot spicy chicken (17€) served in its steaming hot stone bowl. Simply perfect, and quickly chased away the memory of our first experience. Let's just say that the restaurant had only been open for two days at our first visit.
But if there's one thing to remember, it's that only two days after their opening, we loved their food so much that we booked a table to come back two days later as we left the restaurant.