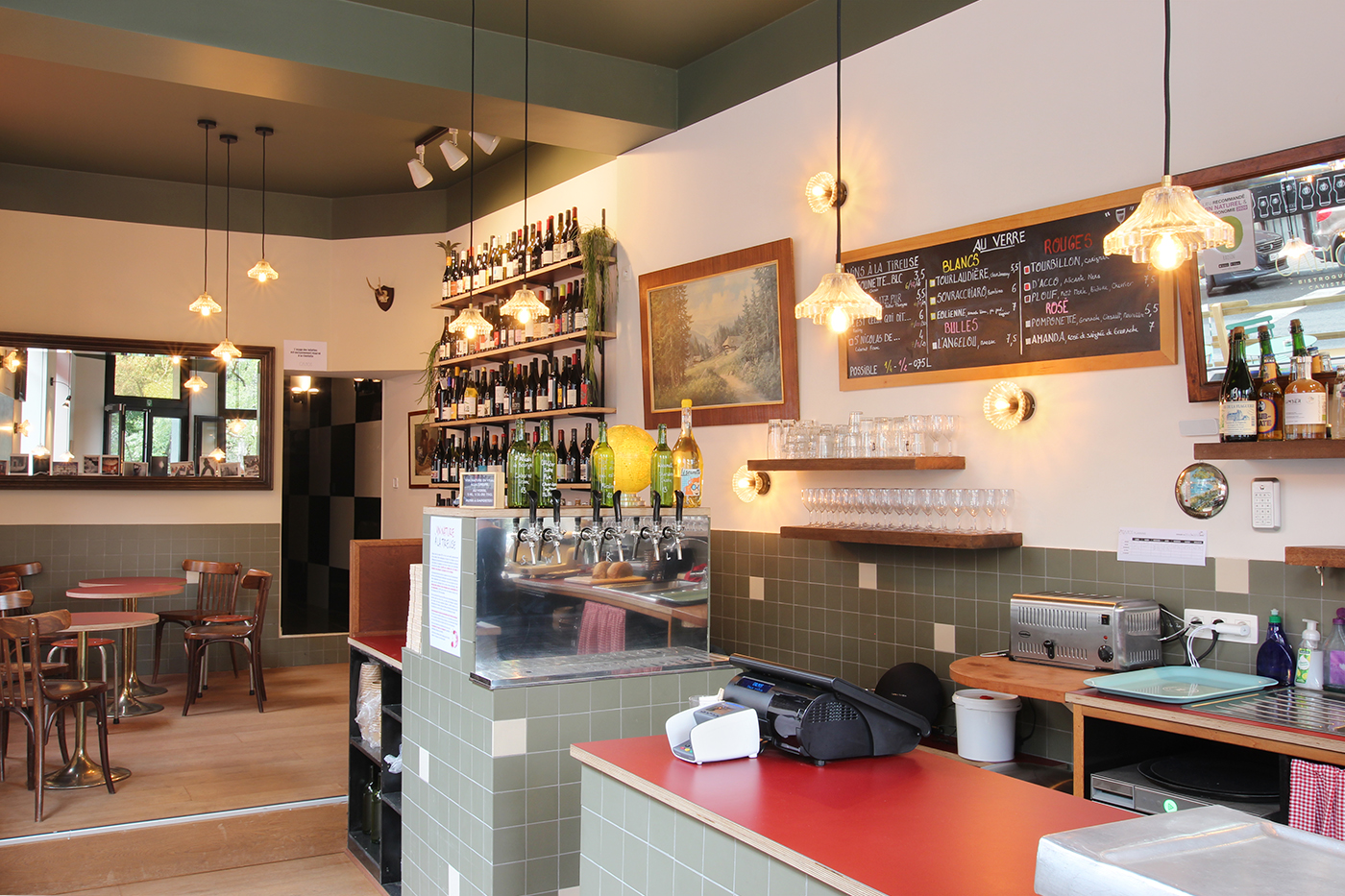 1 rue de Tamines,
1060 Saint-Gilles
instagram
everyday from 5pm to 11pm
wine by the glass : 3,50€ – 7,50€
finger food : 3€ – 9€
We liked the story. Two friends, not professionally into wine per se, but who quiet enjoy drinking it. A photographer and a graphic designer, who have in common the desire to have fun and a wine bar in shared custody. A bar in Saint-Gilles on a corner, with its large French window that invites you to step inside, and its red tables that make you want to sit on the terrace to start the evening.
And that's exactly what we did, we took a seat, and started the evening just right. It was one of those first warm evenings of June, one of those that makes you want to go to Provence, have a glass of rosé with a board of cold cuts. But not just any rosé. At Calmos, they serve natural wines, the surprising kind, that leaves an explosion of flavors on the palate, and which sometimes confuses a little too, to the point that we lose our adjectives. Between white, orange, red so light that one would take it for a rosé, and even, wines served directly from the barrel, we were happy to be well advised.
Marc came to our rescue. He told us that for him, making wine is damn hard work. That serving natural wine was quiet obvious for them, after having made some grape harvests and seen the guys working. You have to be passionate to do this kind of job. He was already into food, which he used prepared at home for a bunch of guests every now and then. With Barbara – former sommelier at La Buvette and former wine waiter at Rubis – and his friend Serge, they brought everything they liked and were passionate about by opening this bar.
Calmos is a reference to Bertrand Blier's cult film, in which Jean-Pierre Marielle played. It has a little bit of a Frenchie side too, a neighborhood bistro feel, that Marc and Serge like. On the black board, simple and good stuff, cold cuts and cheeses, but also mackerel rillettes (9€) and big green olives (4€). Behind the bar, a dozen wines by the glass, and in large letters, the list of wines preserved and served from barrels – a discovery for us.