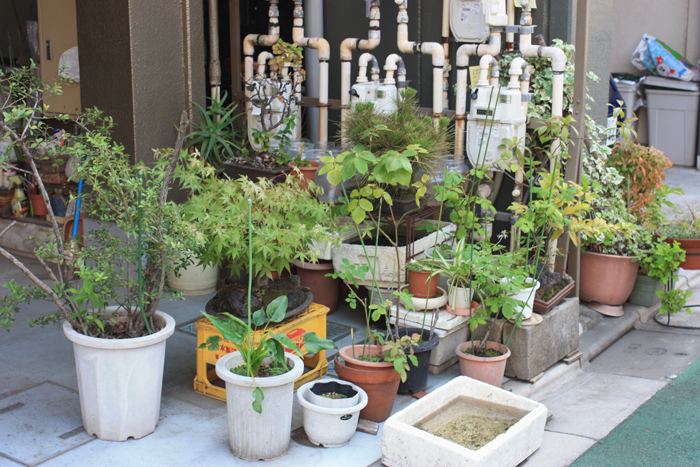 I was so crazy about the idea of visiting Japan! Country of sushis, dog cake shops, bambis walking around town and kawai everywhere. Almost nothing could have ruined my good mood.
I really liked Tokyo, and I probably did only like 1/1000 of what was there to see and do. Unfortunately, we were there only for five days, and were able to see only a tiny fraction of this enormous town.
Tokyo is about 13 times bigger than Brussels. So I would advise to stay there at least ten days to see a bit of the city. It is divided by neighborhood, each one greater and bigger, and all of them worth more than just a few hours visit.
Little summary of what i really loved
– I had this huge crush for those little plants, right before the houses. I found it just so charming.
– You'll find drink machines just everywhere. Really like every five meters. It's pretty funny at first, then it even turns out quite handy.
– Little baskets under your seat when you eat in a restaurant. It's just cleaner for your bag right. These japanese people are just incredible.
– I loved eating dinner in the market, close to the Uneo park. Huge market filled with little tables at night. We even ate there twice. Edamame, skewers, marinated seaweed, tempuras and fried octopus that was a killer.
– Go shopping in their huge and amazing 100 yen stores (about 0,80 euros). Daiso is the best. You'll find absolutely everything! Kitchen utensils, small technology, notebooks, decoration, japanese ceramics, and even food. A must do.
– Order food from those little machines outside the restaurant. Pick something by looking at the pictures, then hand your ticket to the chef inside, cooking behind a little counter.
– We did a couple of museums that were really worth seeing.
Mori Art Museum : panoramic view of Tokyo and great contemporary art exhibitions. When I went, the exhibit was just awesome, I stayed there for two hours.
The National Art Center : No great exhibit when I came, it started a few days later. Nevermind, the building itself alone is worth crossing town. Wavy facade, and very high restaurant, which by the way is part of the Paul Bocuse foundation and serves lunches for 15 euros. Good to know, even though the food wasn't amazing either.
21_21 Design Sight : Great design museum, designed by Tadao Ando and Issey Miyake. Super cool exhibition about color when I visited. Color hunting by Dai Fujiwara.
– Buy japanese ceramics, and bring tons with you back home to offer along with japanese tea.
We were told about a neighborhood where restaurants come buy their own ceramics. Get there before 7pm, shops here close early. On the Ginza line, Tawaramachi stop. I bought tons and tons, and almost emptied the shop.
– Watch the famous pedestrian crossing at Shibuya, from the first floor of the Starbucks.
– Eat onigiri every morning for breakfast! Bought at the family mart or at the 7eleven. The blue one is filled with tuna and mayo and is just amazing! Thanks Zazie!
– Make Kawai pictures! (Purikura) You'll easily find booths in game centers. It takes a little time to understand how to correctly position pink bows in your hair and fake lashes on your eyes, but after a few minutes, it's as if you always could read japanese.
– I really like the Harajuku neighborhood, where we ate okonomiyaki that we cooked ourselves on a teppanyaki ("Sakuratei" 3-20-1 Jingu-Mae, Shibuyaku). Lots of small houses, little streets that go up and down, (a Daiso store) and small clothing shops.