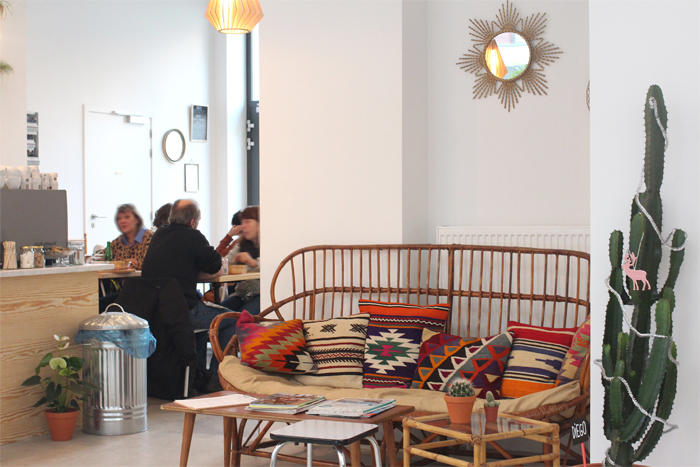 10 RUE DE RUSSIE, 1060 BRUXELLES
02 534 43 98 – SITE WEB
OPEN FROM MONDAY TO FRIDAY, FROM 11:30 AM TO 6:30 PM
Mammouth is the type of place you can visit anytime during the day, wether it is for breakfast, lunch, coffee or brunch. It is also the first venue of this type in the neighbourhood of Gare du Midi, at least the only one where we would happily spend some time. A difficult bet but definitely a success for those two sisters who started with Mammouth a new chapter in their lives, leaving behind their jobs as a lawyer and a teacher. They will welcome you warmly and with a smile, and make you feel directly at home.
The space, big and full of natural light, has been divided into two areas, and nicely decorated with hanging plants and colourful Kilim cushions. By the entrance, a big open counter will let you spot the homemade desserts and the different preparations for the veggie plate of the day. On the black board, in addition to the veggies, you'll find sandwiches and buns, filled with beetroot humus, grated feta and cucumber slices (4,60€), or with their delicious homemade meatloaf and cheddar cheese (5,10€). And for a sweet note, we recommend their chocolate cookies, still soft on the inside as if they had just come out of the oven.
The times flies at Mammouth, and we have fallen in love with this place and its two owner, who have fondly named their cactus Diego.