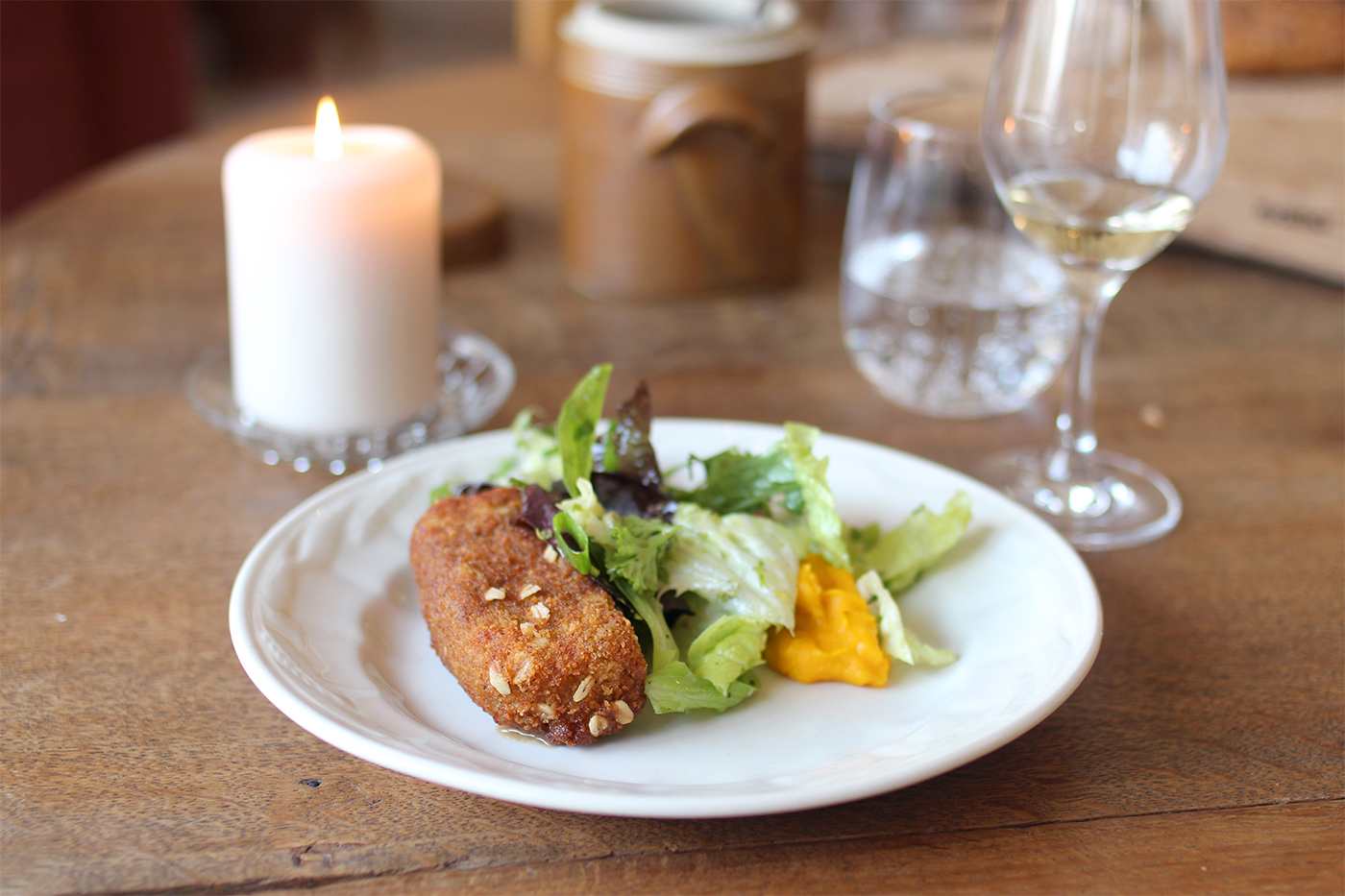 17 rue de la fauvette, 1180 uccle
0477 66 67 27 – instagram
tuesday and wednesday for dinner
thursday to saturday for lunch and dinner
amuses gueule : 1,50€ – 8,50€
mains : 13€ – 22€
sides : 6,50€ – 8€/h6>
Imagine three of your favorite people from the Brussels food scene – Damien Bouchéry, Joël Geismar and Romina Bux – opening a new venue together. Fauvette is miles away from Bouchéry, though it's located literally next door. Fauvette is also miles away from Le Garage à Manger, though the generosity in the dishes is the same. It's got less than 20 seats, a room full of natural light during the day and mostly lit by candles at night, carefully selected vintage furniture, bare wooden tables, a big cabinet filled with natural wines, and tons of copper cookware displayed on the walls.
There is almost no sign that this place used to be the previous Coq au Vin – though the copper cookware was actually found in its basement. The spirit of French cooking though, has remained: traditional, generous, simple yet extremely technical, and mostly, extremely comforting. Fauvette serves coq au vin (19€) – a tribute to the previous owner – but also an amazing boletus casserole (22€) and a beef stew that has been cooking on the stove for over 48 hours (16€). Three to four dishes max, but a super long menu. Here's how: to go with the dishes, you can order mashed potatoes – the French traditional way -, or seasonal veggies. But before any of this, start the evening with super interesting appetizers, highlighting the talent and know-how of the team. Salted duck, sliced so thin it almost falls apart in your hands (5€), cheese puff pastries (1,50€ per piece), rabbit rillettes from the specials, or even pickled Eryngi mushrooms (4,50€). But those are only a few of the appetizers. Hard to miss out on the starters too, with the incredible pheasant croquettes or the delicious chestnut and poached egg soup. Actually, we could praise the whole menu, but we had to stop somewhere. One last thing though you shouldn't miss out on: the extraordinary bread made by Romina, using homemade sourdough and old wheat varieties. So easy to digest any gluten intolerant could give it a try, so light, so airy, so… extraordinary, really. On sale at Fauvette every Wednesday and Friday afternoons.