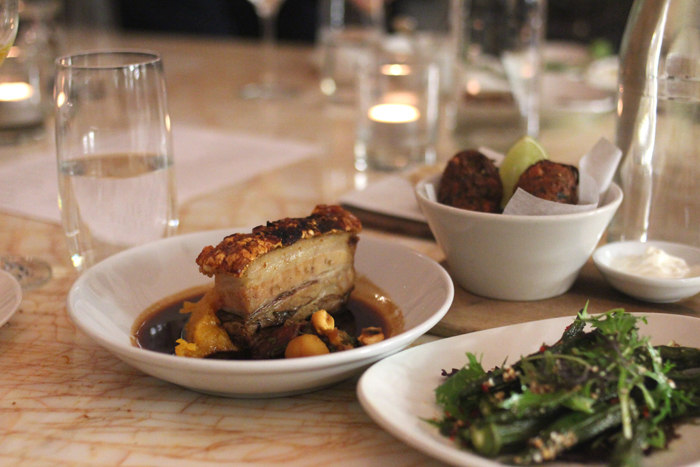 NOPI
21-22 Warwick Street
London W1B 5NE
TEL: 020 7494 9584 – SITE WEB
When we started planning our weekend in London, one of the mandatory things on my list was to try one of Ottolenghi's many addresses. I'd bought all the books already, and made quite a lot of recipes at home, but never had the chance to try any of the places.
We left on a friday evening with the Eurostar, and barely had the time to drop our luggages at the hotel before heading to the Nopi.
At the entrance, we were greeted by a table filled with huge beautiful vegetables bowls. We got seated at the basement floor, at one of the two big tables in pink marble. On one side, the open kitchen let us peek at the chefs preparing marvels, and on the other sides, bookshelves filled with spices, Ottolenghi books, olive oils, pickled vegetables… Every little thing is pretty and well though of, the atmosphere is layed back and the service is perfect.
We start the night with two glasses of champagne cocktails with saffron, then a series of delicious small dishes with influences from around the world start arriving at our table. Grilled eggplants with black garlic and chili, zucchini and manouri fritters with cardamom yoghurt, and pork belly served with mustard and apple sauce. Simply amazing, and both our favorite. We end the night with a Tau Fu Fa, a light soy cream, sweetened with palm syrup and topped with freshly grated coconut.
We are in love, though the bill is quite high, this meal was simply splendid!