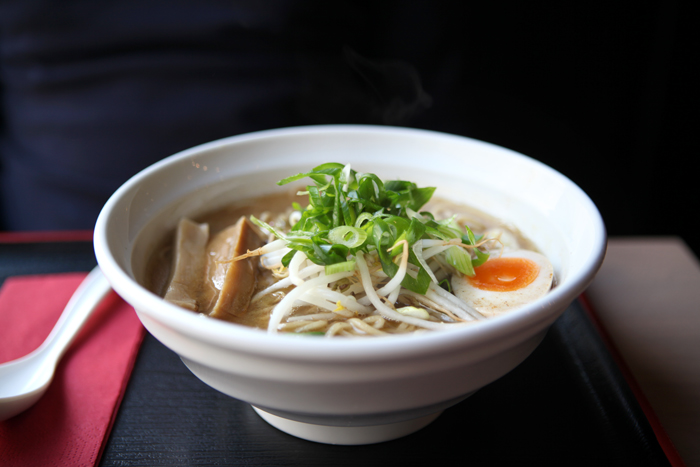 123 AVENUE DES SAISON, 1050 BRUXELLES
02 648 73 70 – DELIVERY
OPEN EVERYDAY FROM NOON TO 2:30PM AND 6:30PM TO 10PM
Located on avenue des Saisons, close to the Cimetière d'Ixelles, Menma opened its quarters right where the famous Kamo restaurant used to stand, a few weeks after it moved to chaussée de Waterloo. Another place for ramen lovers in Brussels, and clearly not the least. At Menma's, the focus is on homemade products, and though the main dish is clearly from Japan, mot of its ingredients are sourced in Belgium. Gyozas are homemade every morning, and the delicious ramen noodles are made on the premises with Belgian wheat, then served with roasted pig – from Belgium as well – and fermented bamboo shoots carrying the name "menma", the house specialty.
The broths, rich and thick, all sit on the stove for a minimum of 24 hours before being served, with either salt, soy sauce or yuzu, to release as much flavour as possible. We particularly love the Yuzu ramen (13€), deliciously fragrant, a discovery for us and something new for the Brussels food scene.
The service, though mostly in Japanese, is always warm and welcoming. Once seated, you'll find all the details about their noodles and fermented bamboo shoots printed on the little plastic menu. Certainly no frills in this very modest ramen joint, but definitely one of the best spots to eat ramen in Brussels.