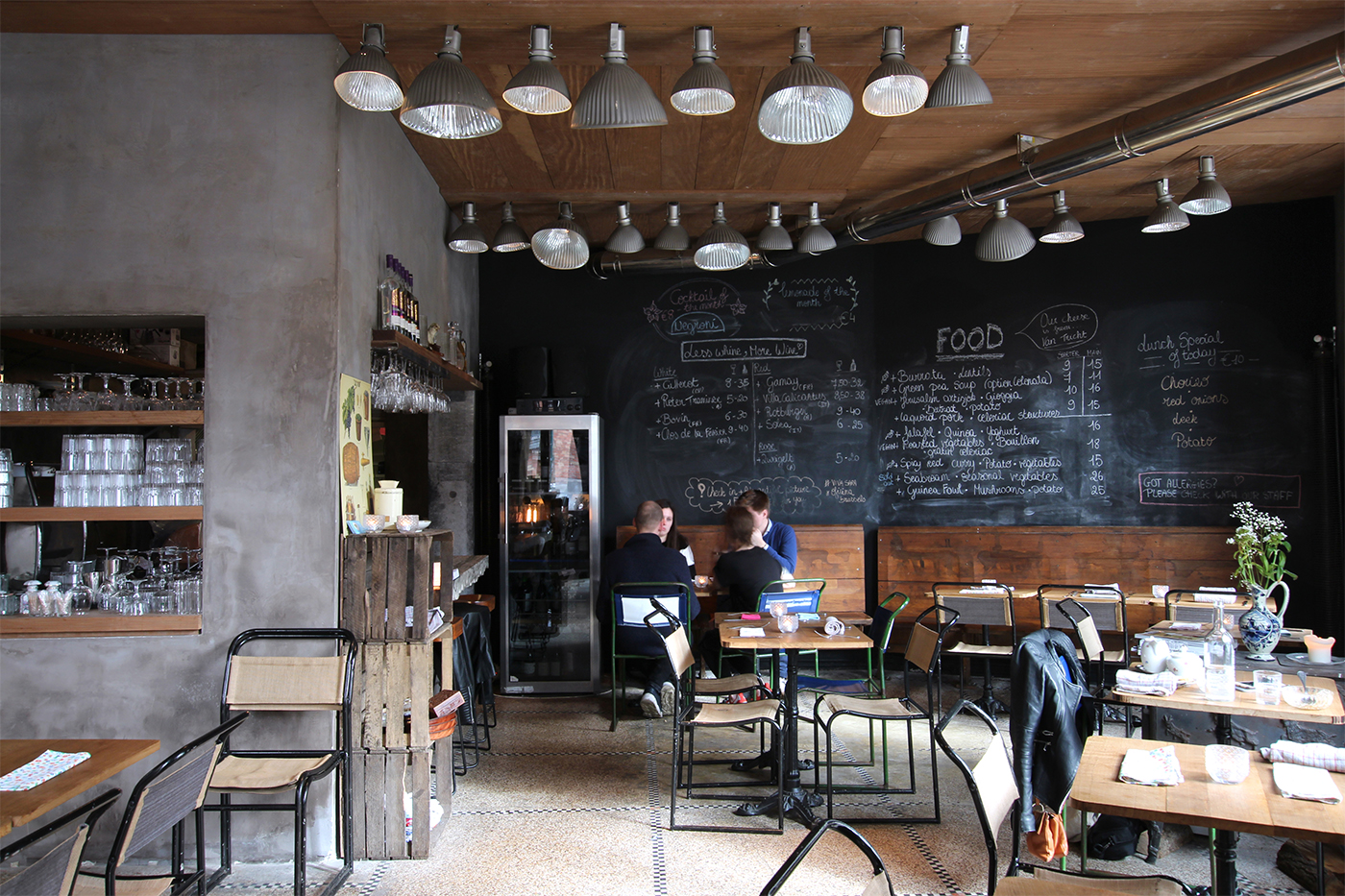 16 rue d'Alost, 1000 BRUXELLES
0472 04 95 30 – WEBSITE
open from monday to friday from 12 to 2:30pm and from 6 to 10pm
saturday from 6 to 10pm
Oficina popped up in the Dansaert neighbourhood in June 2016, just on time to throw a couple of chairs and tables outside to improvise a terrace, on this street corner where the sun never hides.
Inside, huge mirrors are hanging from the walls, slightly tilted to show a view of the entire room, reminding of us of Frederic Nicolay's first restaurant « Chez Marie ». The rest of the place is a mix of wood, original tiles and raw concrete. If we do recognise Nicolay's touch – with La Belle Equipe, the Barbeton, Kumiko Izakaya and the Walvis, he's almost conquered the whole area for our greatest delight – it's a whole different team in the kitchen and management.
Sanne, Okan and Amélie quickly took over their new headquarters, to turn it into a charming little restaurant where vegetables and seasonal produce are in the spotlight. On the menu, four dishes, to order either as starters or mains, and a few suggestions changing each month (from 15 to 26€). On their black wall, burrata with lentils (9-15€), a plate of Jerusalem artichokes, chioggia beetroots and roasted potatoes (10-16€), falafels with quinoa and yogurt sauce (16€), or roasted sea bream and grilled vegetables (26€).
Everyday, they serve a lunch special for 10€, vegetarian at least every Thursday. The falafels and vegetable broth with roasted celeriac that we tried were tasty and generous, and we are thrilled to finally have a place which focuses on organic and seasonal produce, from lunch all the way to dinner.
When we come back night, we'll order a glass of organic wine from Troca and La Buena Vira, but right now, we'll do with an espresso on their tiny terrace, before the sun goes down.