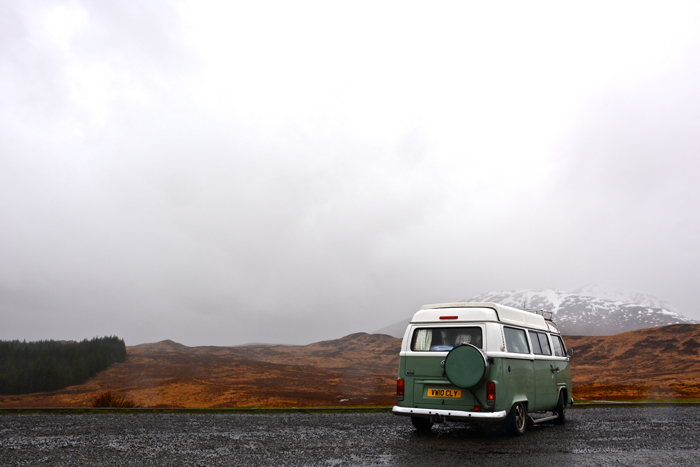 MHOR 84, ECOSSE
'01877'384'646 – SITE WEB
OPEN ALL DAY FOR TEA AND CAKES, OPEN AT NIGHT
FOR DINNER, CONCERT ON THURSDAYS
Guest Post by Zazie Maquet from Tadam! Studio.
Scotland was a complete unknown, apart from the usual clichés of kilts, haggis and the deep fried mars bar.
It was a real shock : rolling vistas, that could have been sslands, vast plains, blue turquoise lochs, auburn and majestic mountains, all under a changing heavy gray sky.
My favourites? Glencoe, the sumptuous highlands that cover in purple heather come spring and this address, on the road between Edinburgh and Fort William just after Callander, Mhor84.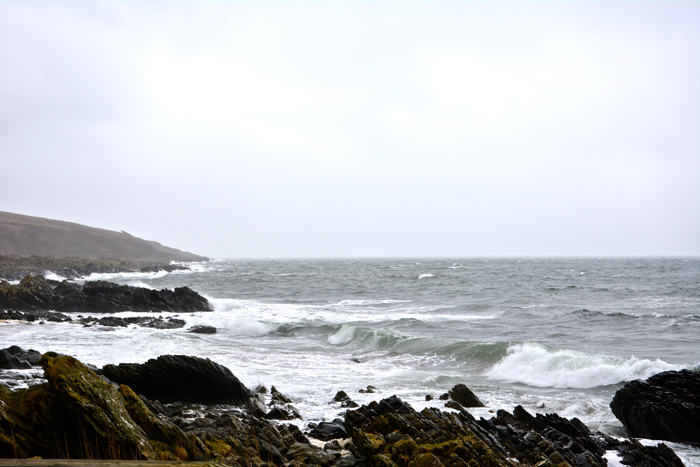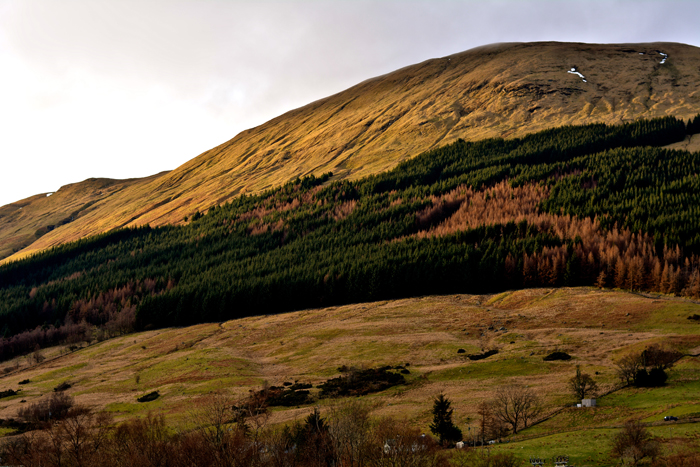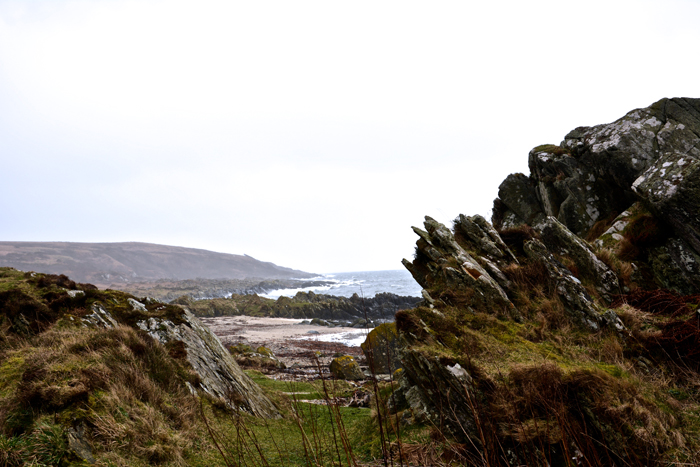 After several hours crossing the Scottish countryside, passing Lochs, diving into valleys and stopping to let the sheep move off the road, we arrive, just off the A84 at Balquhidder and our roof for the night, Mohr84.
This white motel covered in deer antlers is held by a Welsh family.
The boss, Tom, opened further up the glen the luxurious Monachyle Mhor Hotel & Spa in the family farm. An experience that gave him the itch to do more, and decided on a chance meeting with the location's previous owner to buy and renovate the roadside motel into a simple and intimist experience.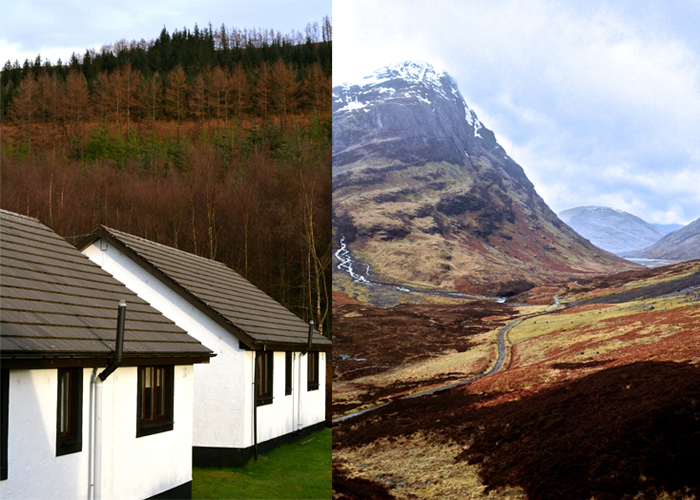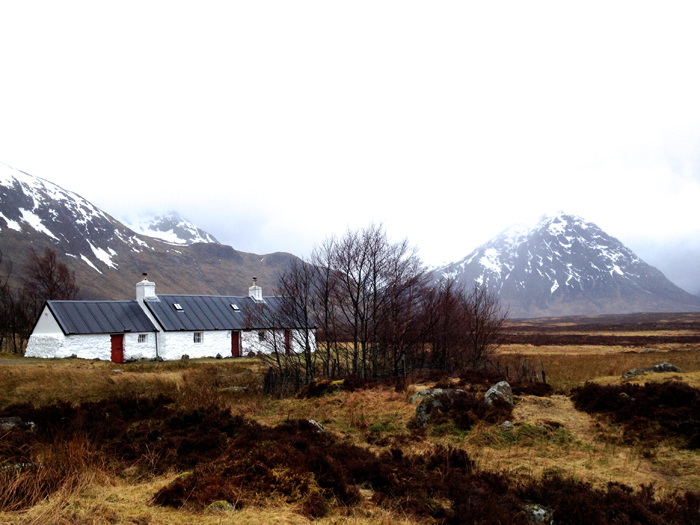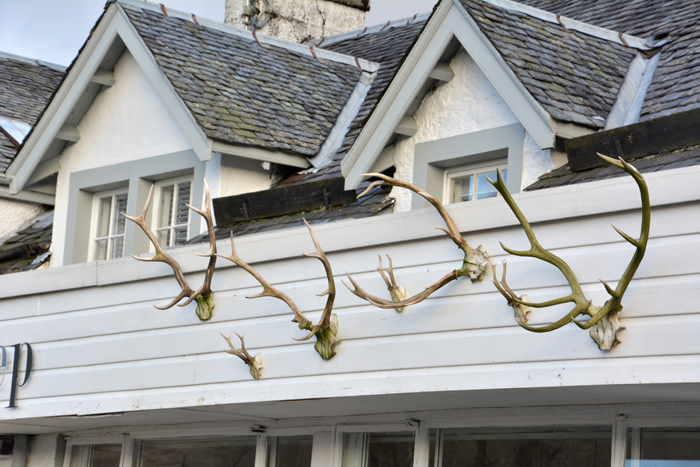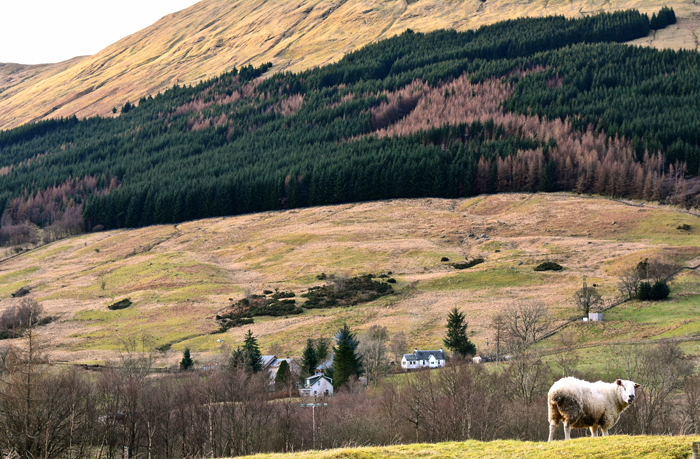 Here, everything feels real and true while remaining delicate.
A few hours before the opening, Tom and his family opened their treasure troves amassed at flea markets across the country and abroad, and started placing everything without concertation. The result, a completely heteroclite decor to their image.
The rooms are the complete opposite. White, pure and simple. Nice furniture, comfy beds, white painted wood, and thick carpeting underfoot. The real star here is the view down the glen, that you can see through the traditional windows.
We arrived around 5pm, which was perfect for a drink before dinner. The boss was putting together the new wine menu with his supplier and proposed that we joined him in wine tasting.
Lisa, Tom's wife, recommended that we book our table for the restaurant, which seemed strange as it was still empty with just a few locals sitting by the fire and bar. But "Thursdays get full" she said, "we all have a sing song."
So after a few local cheeses and Scottish oatmeal crackers, like in Wallace & Gromit, we head into the now full dining room. Mohr84 has become the surrounding area's rallying point, the atmosphere is warm, cosy and friendly, which is a welcomed contrast to the howling Highland winds outside.
Scotland is synonymous with nature, you can't turn a corner without discovering a new loch, a new forest, so the fish and the game are of prime freshness.
We started by having some Loch Fyne oysters, from the loch down the road, with a whisky and shallot sauce. A marvel, the lemon becomes anecdotic because of the perfect harmony between whisky and oysters.
Next door, a ceilidh folk band started playing the first few bars of a traditional scottish song, as our mains arrived. Wild venison from the family farm with smoked beetroot and Ross has the Blairgowrie steak with Horseradish. Perfect.
The music's tempo was picking up and people were starting to nod their heads, tap their feet, "thank folk it's thursday" between the three lit log fires, as a sip of vintage single malt warms burns gently inside, sat at the bar.
Murchadh, that lives in a tent up a hill path not far, walked in. He's the thursday regular, armed with his traditional drum and sheep foot drum stick, he joins the ceilidh band whether they asked him to or not.
As the music ended, the locals drove off into the night in big Defenders, the dogs fell asleep in front of the dying embers and we went up to bed, drunk with happiness, and maybe the whisky had a bit to do with it too.
In the morning, the cold light slowly wakes us, and we think about staying all day wrapped up in the sheep skin, but after a hearty scottish breakfast, bacon, sausages, tatty scones, roasted tomatoes and haggis (which is difficult, very difficult ) we hit the road towards Glencoe, and its magnificent colours.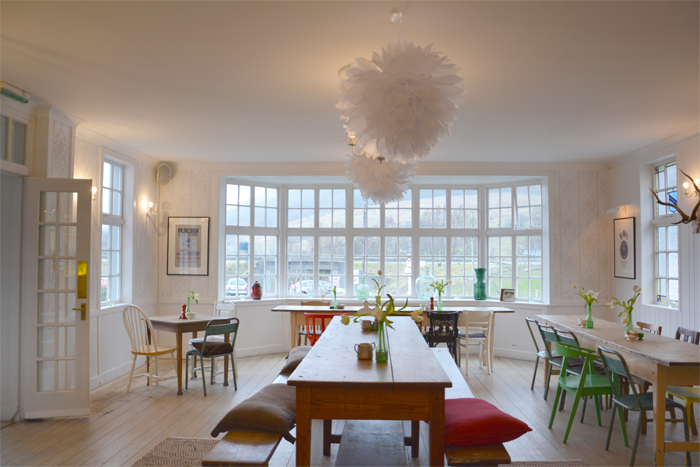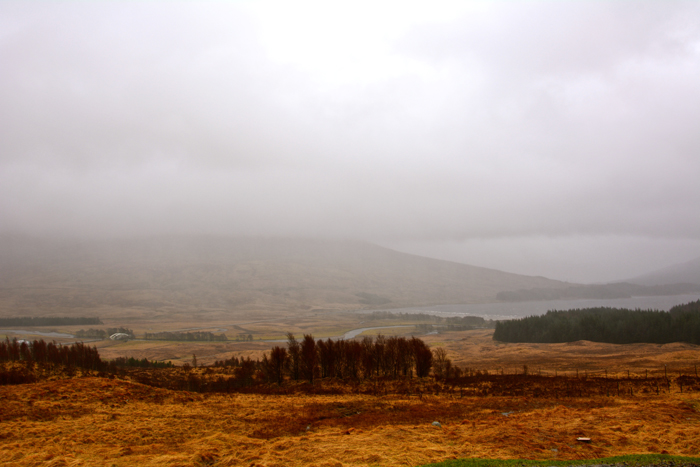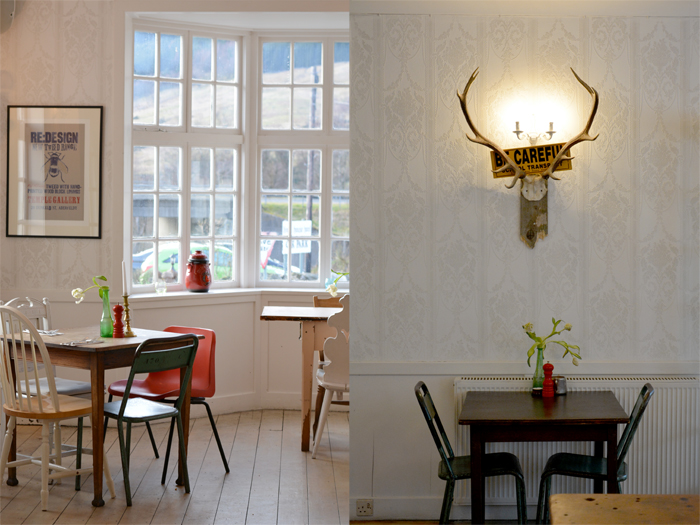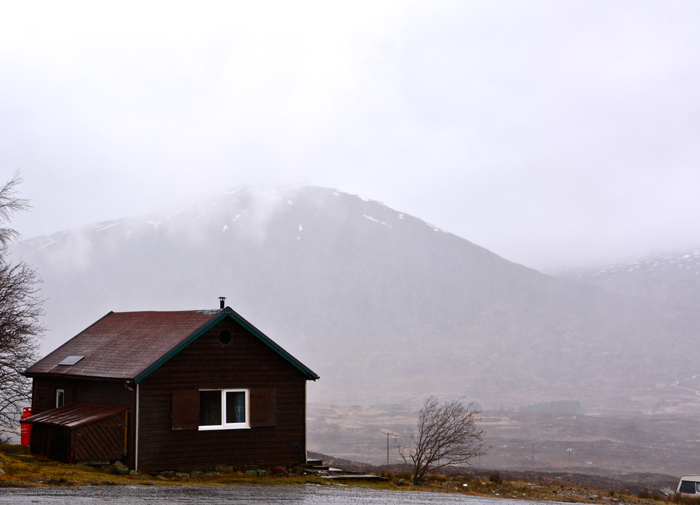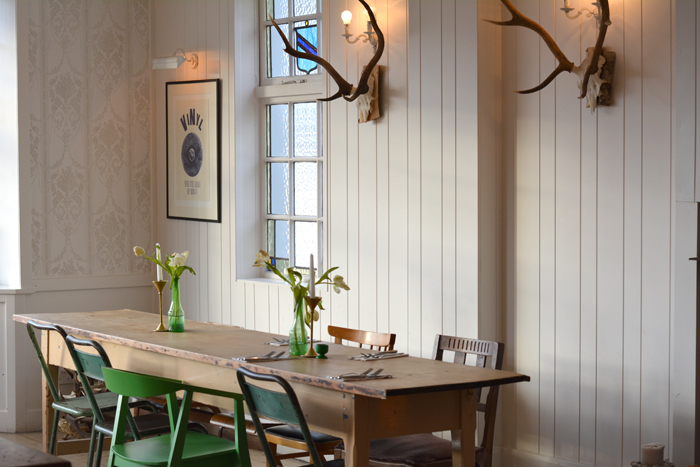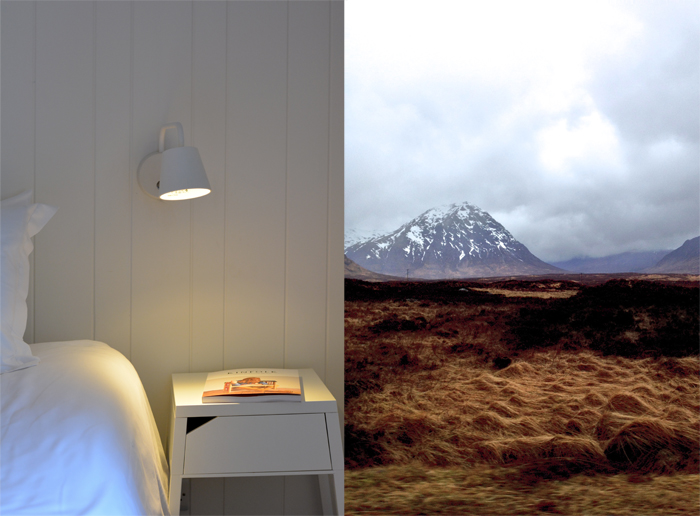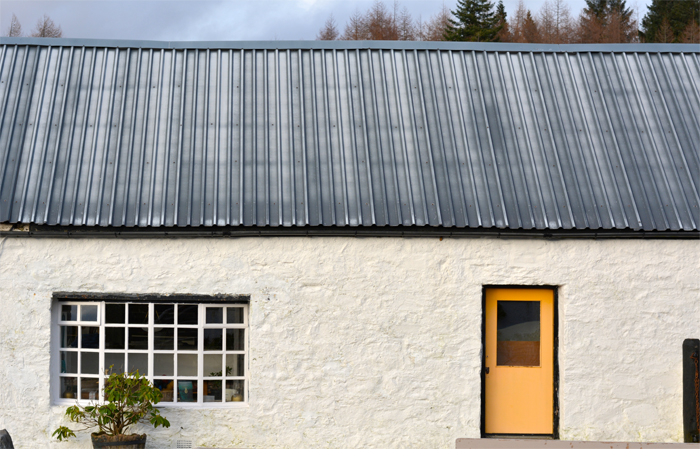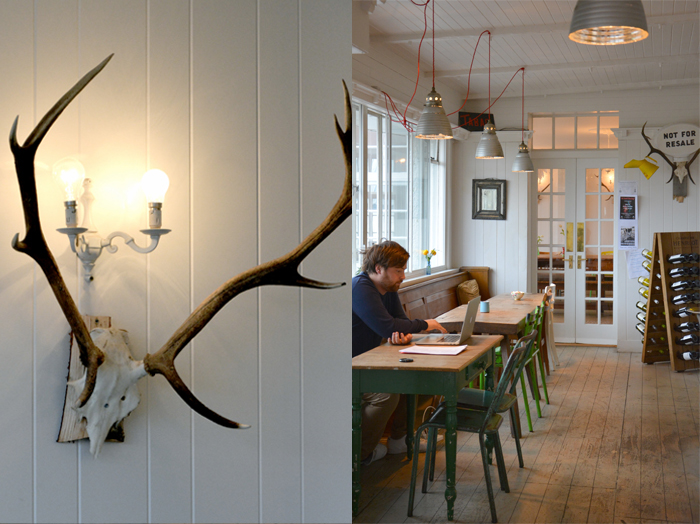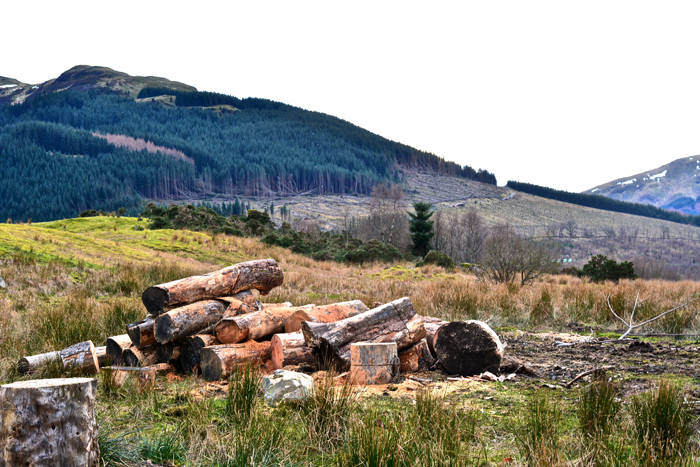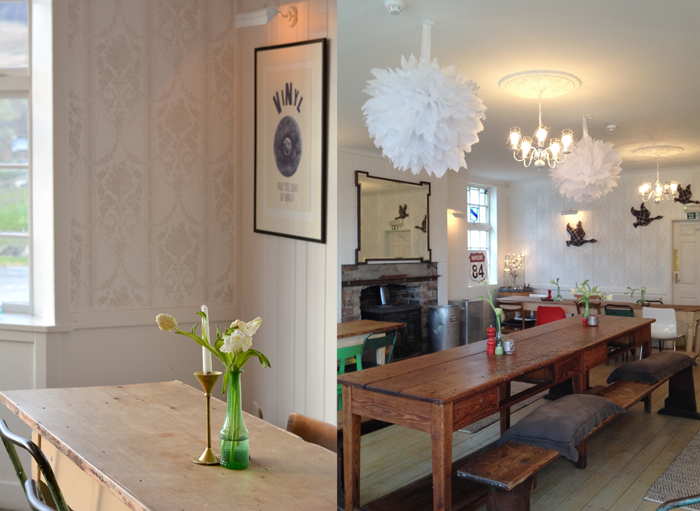 Zazie is a friend but also a talented architect and designer, co-founder of Tadam! Studio
Tadam is the story of two interior designers, meeting in an office and deciding to collaborate on a set and event design studio.
Tadam tries to put a product or an event forward, through momentary interventions, a scenography, a window display, or even a party, working with experimental materials, formats or situations.
Tadam is what one wishes to say to their guests when the scenery is set. Tadam!