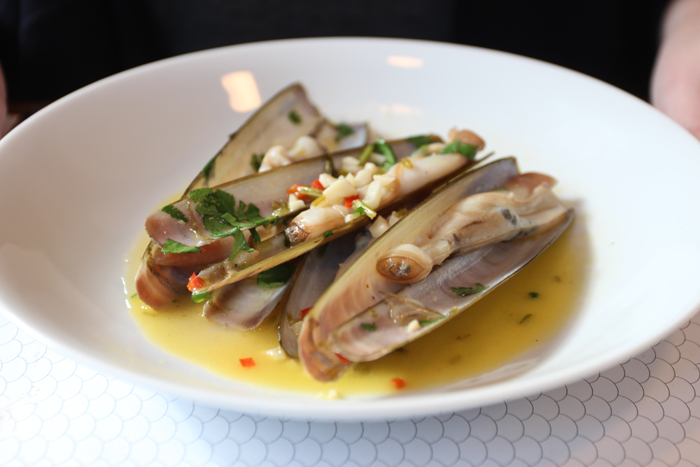 2 RUE VAN GAVER, 1000 BRUXELLES
02 218 64 20 – SITE WEB
OPEN FOR LUNCH FROM MONDAY TO FRIDAY FROM noon to 2pm AND from 6:30pm to 10pm
We love the soft and cosy feeling oozing from this white and green restaurant, on the days when the sun pierces through the windows to lighten the faces customers. Beaucoup Fish, like the name says, is the place to go to to enjoy all sorts of fish. It's also very much an elegant restaurant, with beautifully designed details, from the white marble counter to the pretty placemats with fish scale patterns.
On the menu, different fish and seafood are put in the spotlight according to the weekly catch. The starters are quite convincing : the salmon tartare is delicious and perfectly seasoned (11€), and the grilled razor shells are a pure joy, simply prepared with olive oil, garlic and fresh cilantro (12€). Of course you shouldn't forget to order their shrimp croquette duo (17€), a must for any Belgian food lover. They are simply to die for. And with a glass of white wine, it will be a lunch to remember.
Not to miss either : their lunch menu with a starter and a main for 23€.
It's without any hesitation that we make our way to this lesser known part of the city, to enjoy great food in a beautiful spot.