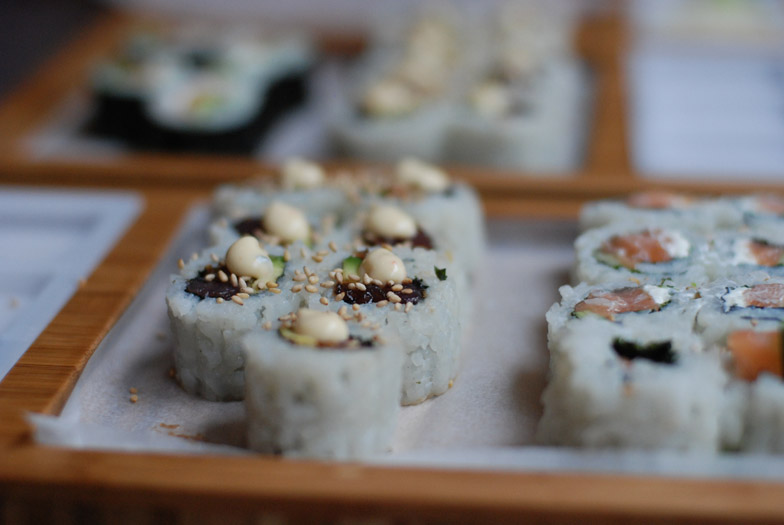 5 RUE DU BAILLI, 1050 BRUXELLES
PHONE: 02 640 45 50 – SITE WEB
OPEN FROM TUESDAY TO SATURDAY FROM 12PM TO 22:00PM
Finding good sushis/ makis, is not an easy thing. Often they're prepared in advance and kept in big fridges, just not fresh enough anymore.
If you want good ones, you're gonna pay for it, especially in Brussels. In Paris or Berlin, it's much different, you'll find sushis for really not much.
And then Makisu opened on rue du Bailli, we tried it, payed for it (really not much), and loved it.
Chloé and me were watching out for the opening for a while already. The nice visual identity had kept our attention.
Makisu serves quantity of makis (no sushi or sashimis), around 4 or 5 euros for 8 pieces. They're good and well filled and minute made by a young crew of guys behind the counter.
You can chose fresh or funky makis, and if you don't feel like any, you can also make up your own. You'll also have miso soup for 2 euros, shrimp tempuras, yakitoris skewers, etc.
When we went I got Phillyroll (salmon, cucumber and cream cheese), Makifornia (tuna tartare, crunch, avocado, and spicy sauce), and a miso. And it all cost me only 11 euros.
So the concept's great. You order at the counter, serve your own soup, and clean your table. But the setting makes us feel good. The complete wooden ceiling and walls make the place very warm and comfortable, and the graphic color touches have something fun about them.