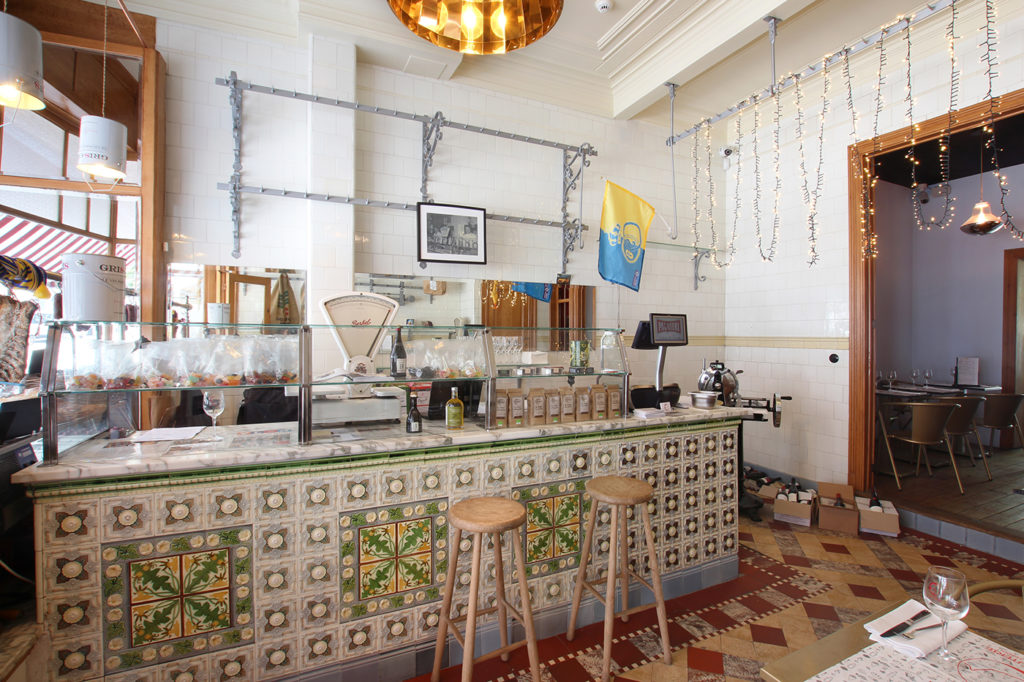 16 avenue paul dejaer, 1060 saint-gilles
02 850 88 12
– facebook page
monday, wednesday to saturday, from 3pm to 10:30pm
small plates to share: 6€ – 18€
Olivier and his wife Ana have chosen this old charcuterie and delicatessen, to open their restaurant in Brussels. A choice that was key in their opening, as the place was heritage listed at the city of Brussels, had been abandoned for a while, and was requiring important renovations to restore it to its original state. The Charcuterie used to be owned by Marguerite and René, up until 1978. Before the renovation, what was left of it was only the tiled walls, the big counter and the chopping block, where René would cut and clean the pieces of meat.

All the rest – the butchers' hooks, the solar tent, the windows and the woodworks – had to be remade extremely precisely, using the archives for only reference. A beautiful work that Ana and Olivier honor each day by giving another life to this previous delicatessen.
From the charcuterie, they've kept only the name and the interior. On the menu, the small plates to share are rather Mediterranean. Order one, two, or a dozen, depending on how hungry you are. Appetite comes with eating, says Olivier. We ordered baby squid à la basquaise, braised cauliflower, prawns a la plancha, and black pudding with chestnut cream. But before eating it all, Olivier brought us toasts topped with parsley, olive oil and anchovy's tapenade – the basis of the cuisine from Piemont's. It was delicious. Olivier's cooking had us feel as though we were on vacation, and we devoured each and every small plate, along with some natural wine, from Titulus among others. What we love about the place: every single ingredient from the menu is available to buy from the counter.