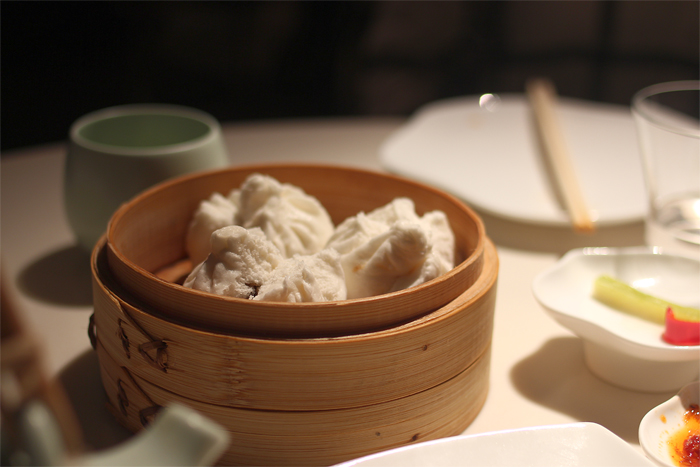 YAUATCHA
15-17 Broadwick Street
Soho, London, W1F ODL
TEL: +44 (0) 20 7494 8888 – SITE WEB
Being a huge fan of Dim Sum ever since the four years I lived in China, Yauatcha was on my must-try list when we stopped in London for a short weekend.
I'd already told you about my experience in the Dim Sum palace Maxim's in Hong-Kong here.
At Yauatcha's, you won't find any trolleys filled with baskets, but a long menu with a list of all dim sums you can possibly imagine. Steamed, pan fried, deep-fried, almost 70 different kinds are available here. A total dream for me.
So of course, we were all crazy to try everything. Along with Sarah and I, two friends of ours joined us for this lunch in London, which made the sharing even more interesting. Dim sums filled with soup that you have to carefully suck after biting them, barbecued pork Ban Bao, deep fried spring rolls with shiitake mushrooms and truffle, "Har Gau" classics with shrimps, caramelized spare ribs with jason, Cheung Fun with shrimps, fried than wrapped in a rice paper sheet, shrimp and cuttlefish balls wrapped in spinach leaves then steamed, and a plate of baby pak choi sautéed with garlic and ginger. We try everything and make little awe and wonder noises, while trying to cut everything into four. The dim sums were delicate and refined, and Sarah enjoyed every little bite of this cuisine she only really tried out for the first time.
The place is large and filled with low round tables around which clients are invited to sit in low chairs. The blue glass walls make the place look like a kind of chic giant aquarium, with a Chinese touch to it. The china is simply really pretty, light pink and baby blue flower shaped plates and silvery chopsticks.
In the other room, amazing desserts are displayed behind a glass counter, mixing Asian influences and French technique. Matcha tea, caramel, black sesame or rose shaped cakes, everything is pretty. We finish off this culinary experience with a little coconut and mango cake to share, light as the air.
In terms of pricing, the bill is rather decent, 35 pounds each for the amazing meal we shared.