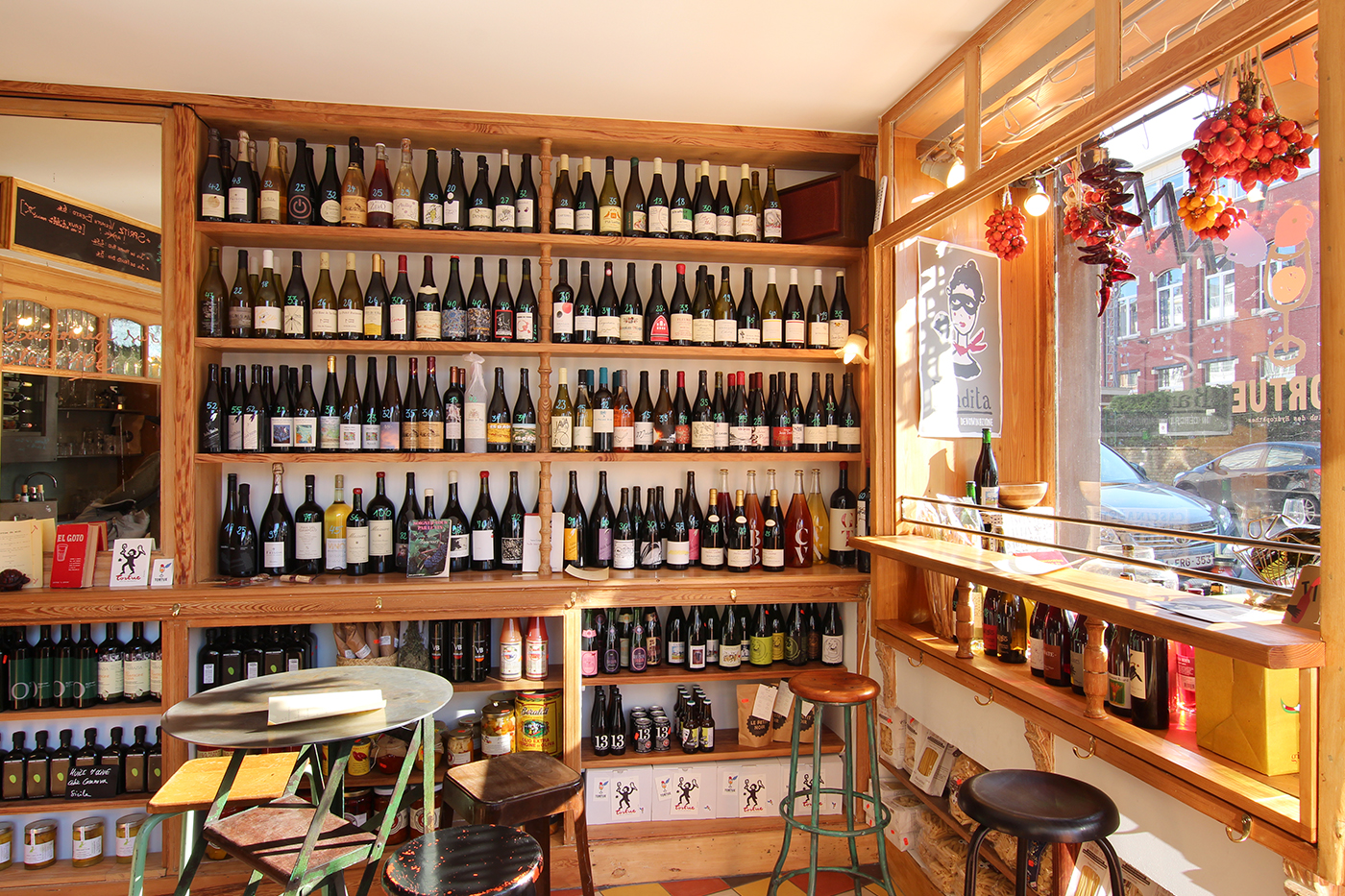 34 rue Edith Cavell, 1180 Uccle
0473 18 03 48 – SITE WEB
bottles on site: from €22
bottles to take away: – €10
small aperitif plates: from €4 to €12.50
every day from 5 p.m. to 11 p.m.
Tortue, like « Tortuga island », once considered as the ultimate destination by pirates. « Perruche » (parakeet in English), because the team like the word just as much as Tortue, and therefore decided to use it in the logo, and anywhere else they could. But what the team is really looking for, are the best wines across the globe – a bit like pirates in their never ending search for Tortuga, hence the name.
Their corner wine bar, lightened up by the sun, at the corner of two quiet street in Uccle, is definitely a sort of treasure island. Managed by Yann and Etienne, and launched by the same team already behind Chez Franz and Chez Richard, Tortue is no bigger than a pocket handkerchief, and its shelves are already filled with bottles and deli produce, from floor to ceiling. The same attention to detail – from the logo to the menu -, is recognizable from the team's previous venues, and so is the super nice staff, and the extremely laid-back atmosphere. On a sunny Friday night with friends, its' close to a piece of paradise. Their specialty: natural wines with an edge, the ones that make us smile just with the smell, and give us the best surprise with a sip. We just loved their Wild Rosé (36€ on the spot), a unique and wacky light red wine, and the Java (33€ on the spot), a white wine which tastes closer to an orange wine – both made uniquely from fermented grapes, without any additives. On the menu, everything feels like a vacation in the Mediterranean – mortadella as thin as parchment paper (9€), Ham from the Frioul (12€), Nocarella olives (4€), and the hit of the house: tuna Bresaola, served with candied lemon, capers and olive oil (12,50€). As close to Happiness as it gets.