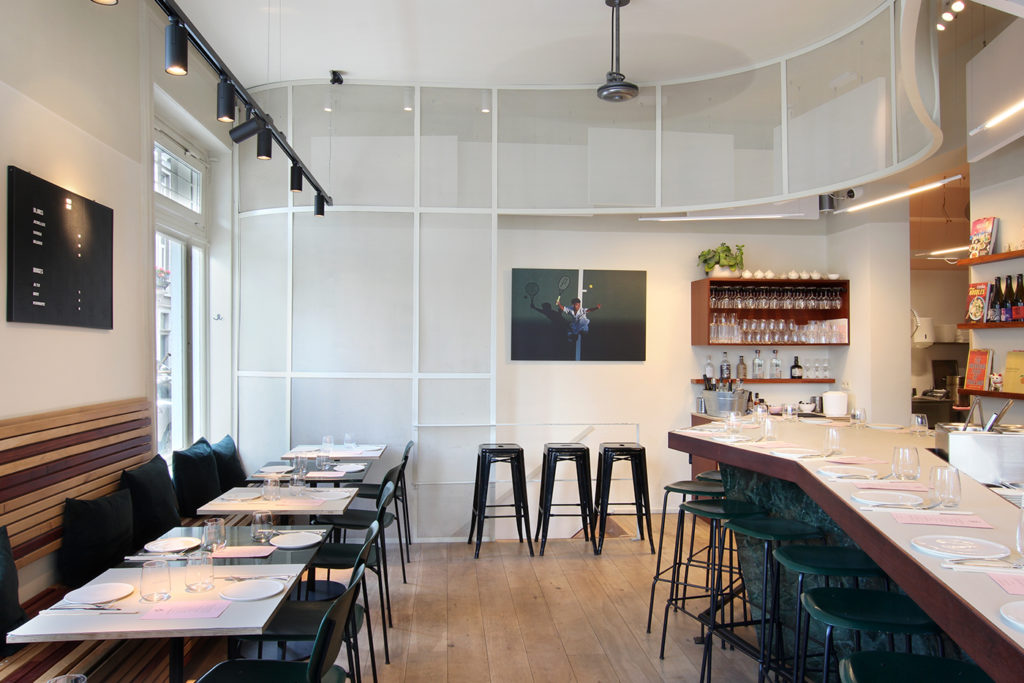 110 rue de tenbosch, 1050 ixelles
02 544 15 55 – site web
monday, from 6:30pm to 11pm
from tuesday to saturday, from 12pm to 2:30pm and from 6:30pm to 11pm
Small plates: 6€ – 14€

 
The concept of small plates to share was key for the founders, John and Xavier, when opening Old Boy. Both with Eurasian origins, they wanted to offer in their first venue, the same sharing experience you find in the street or Bangkok or in Taipei's night markets. As food lovers, what they value most is rather the joy of eating and drinking out. It is with all of that in mind that Old Boy opened in 2019.
Small plates was the start. Then, came the music. Laid-back during the day, and rather loud at night, with playlists from the 90's, to the customers' greatest delight. Then, came the interior project. Advised by Lakhdar, they called upon Jean-Michel de Haan, already known for his brilliant interior renovations at Gazzetta or Notos – to name a few. At Old Boy, you can eat at the counter or take a seat at one of the little green marble tables by the windows. The main elements of the project: a snake-like fence overhanging above the massive green marble bar. Whereas in the restrooms, the blue light will make you lose all your color senses, and the super loud music might make you think you're in a club. This could be London, L.A., even Paris, but it's hard to think it's actually Brussels. Then came the wine. Alexis, self-taught wine waiter, was the first person to join the team. The result of their collaboration is a beautiful wine selection, mostly natural, with some fantastic orange wines among them. As for the small plates, we had amazing Taiwan tofu bao, Thai minced chicken salad, and spicy Chinese beef noodle. Around 10-12 small dishes are available on the menu, changing regularly. The food is simply excellent. In short, we love this place, and go back (very) often. Definitely our go-to restaurant of the yea