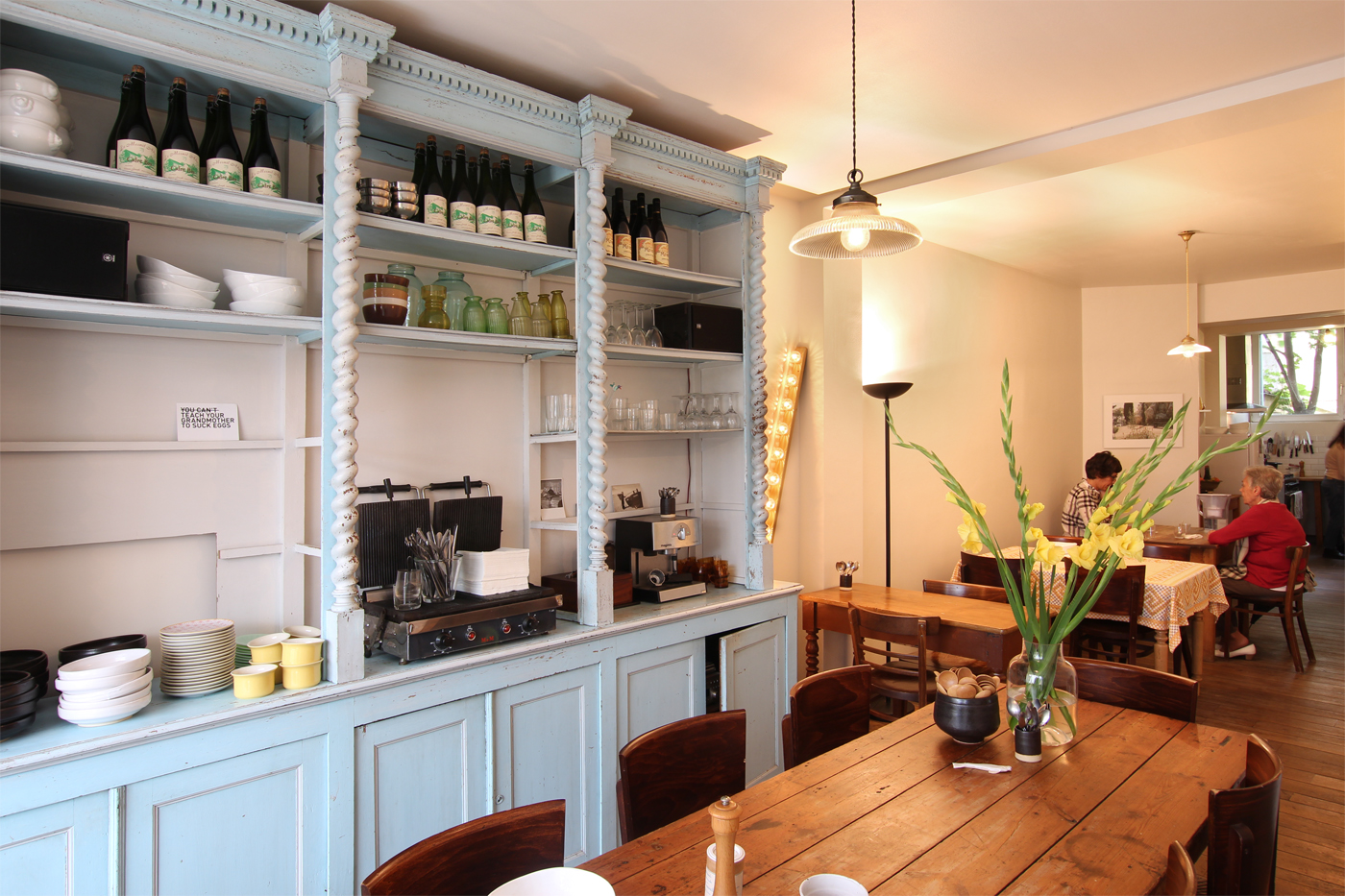 66 RUE DU PAGE, 1150 BRUXELLES
0477 98 60 29 – site web
OPEN FROM MONDAY TO SATURDAY FROM 12 TO 3PM
For the past 16 years, Magalie has been welcoming customers into her épicerie as she would into her own home. The place speaks for itself : while it's extremely soberly decorated, it's also warm, cosy and full of charm, and looks exactly like the living room of an actual home.
If it weren't for the table for two by the window, the passers by would have a hard time guessing this is actually a place to lunch. Not far behind, a big table welcomes up to 8 guests, and is simply decorated by a huge vase of yellow gladioli flowers. And if you pass the two extra tables at the back, you'll step right into the kitchen, where you'll find Magalie taking care of your lunch. The small épicerie is just big enough to welcome twenty for lunch, not one more.
Everyday, Magalie prepares a unique dish (12€), always healthy and seasonal, full of delicious vegetables and local produce. Homemade meatloaf is one of her favorites, with meat coming from the excellent Coprossain, served with oven-baked pumpkin. We had a hearty veggie plate with coral lentils or pasta, roasted cauliflower with spices, green beans and greek feta. A simple yet generous and comforting cuisine is served here, not unlinke the one our mothers or grandmothers used to make : with lots of love. With the daily special, cider, wine or Japanese tea. And of course we couldn't leave without trying the dessert of the day (3€), a little jar of chocolate flan.
It's without a doubt the perfect spot for a cosy lunch, comfortably seated in the warmth while watching the Autumn rain tap against the window.