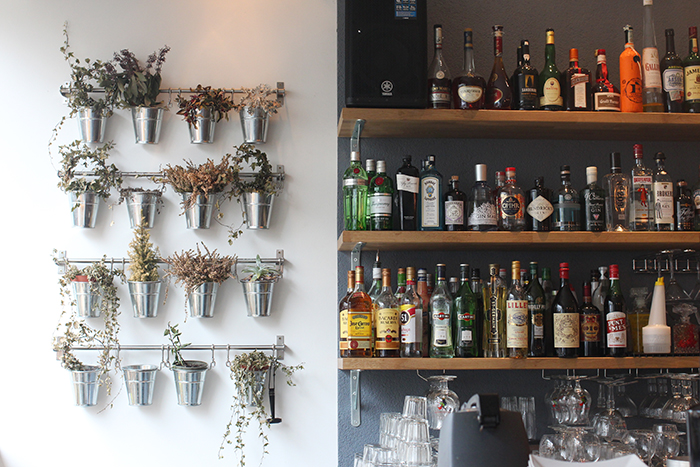 49A PARVIS DE SAINT-GILLES, 1060 IXELLES
0470 33 83 93 – SITE WEB
OUVERT DU MARDI AU JEUDI DE 9h à 1h DU MATIN,
DU JEUDI AU SAMEDI DE 9h à 2h DU MATIN,
ET LE DIMANCHE DE 9h à MINUIT
A real Milanese aperitivo turned into a brunch, that's what this small Italian bar and restaurant is all about every single weekend. The place, easily recognizable with its dark green facade, is small and quite narrow, with a cute terrace sitting directly on the cobbled stones. Inside, a colorful mural decorates one of the walls, hanging plants mix with spirit bottles on the shelves behind the bar, and a tiny bar along the window gets covered with tons of delicious foods, every Saturday and Sunday.
During brunch (17€), the customers feast on antipasti, focaccia filled with Scamorza or Mortadella, mushroom bruschetta, cheese and Italian cold cuts platters, eggplants stuffed with mozzarella, Caprese salads, marinated and grilled vegetables, beef Carpaccio with parmesan and arugula… And many more. Also included in the brunch, fresh fruit juice, a hot beverage and a small buffet of desserts. Pure heaven.
During the week, we'll meet friends here for lunch, to enjoy the pasta of the day (12€), or a focaccia with Italian cold cuts (6,50€). And of course, as soon as the spring starts, it's one of our go-to places for a glass of Spritz and a cocktail.
CiPiaCe is a charming little piece of Italian summer, perfect to escape just for a moment, during a lunch, brunch or an aperitivo.