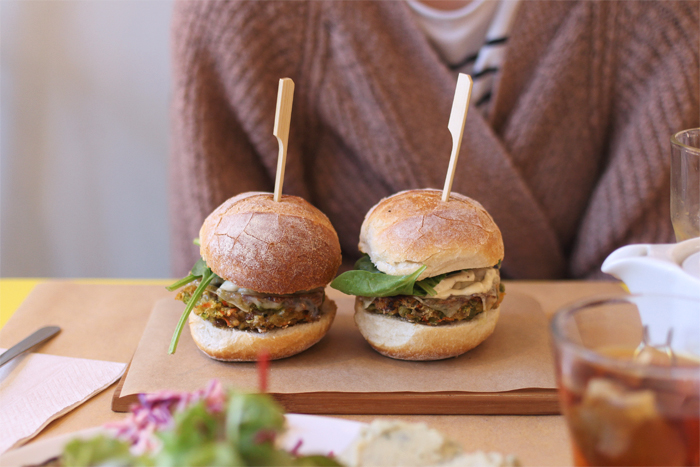 13 RUE LESBROUSSART, 1060 BRUXELLES
02 646 88 41 – SITE WEB – delivery
OPEN monday to saturday,
from 12 to 3pm and from 6:30pm to 10pm
We stepped inside AMI for an improvised lunch while in Flagey. The place was already jam packed when we got there, but the atmosphere was still calm and relaxed. We made our way to the last table for two available, and sit by the window. We already knew more or less the concept : vegetarian burgers.
On the menu, we also found a bunch of other vegetarian dishes, daily soups, a few appealing sandwiches and a vegetarian plate, with or without cheese. A few seconds later, two mini savoyards burgers (vegetarian patty, spinach and melted comté cheese), and a veggie plate on their way, we take the time to sit back and look around. We are seating in the previous soup bar on rue Lesbroussart, changed, redecorated into a bright and cosy place. It's white, tiny and big at the same time, with a counter at the front and pretty tables along the walls, shelves and pretty plants for the green touch. It's simple and well done, just what we needed. The burgers arrive, they melt in our mouth, and taste amazing. The plate is filled with delicious things, goat cheese, white beans houmous, grilled eggplants, vegetarian patty and tomato with mozzarella cheese. It's tasty, colorful, but maybe missing a little bit on the seasons. We end the meal by diving right into the desserts menu, and that's when it happened : perfection. Both our favorite pastries from Brussels are available in this little place : the legendary cookies and carrot cake by Bake, and the pasteis de nata from Forcado. Perfect way to end. We love that this place makes delicious and comforting vegetarian dishes, which are usually opposites in terms of vegetarian food! We want to come back, and bring our friends, then come back again, and bring even more friends.