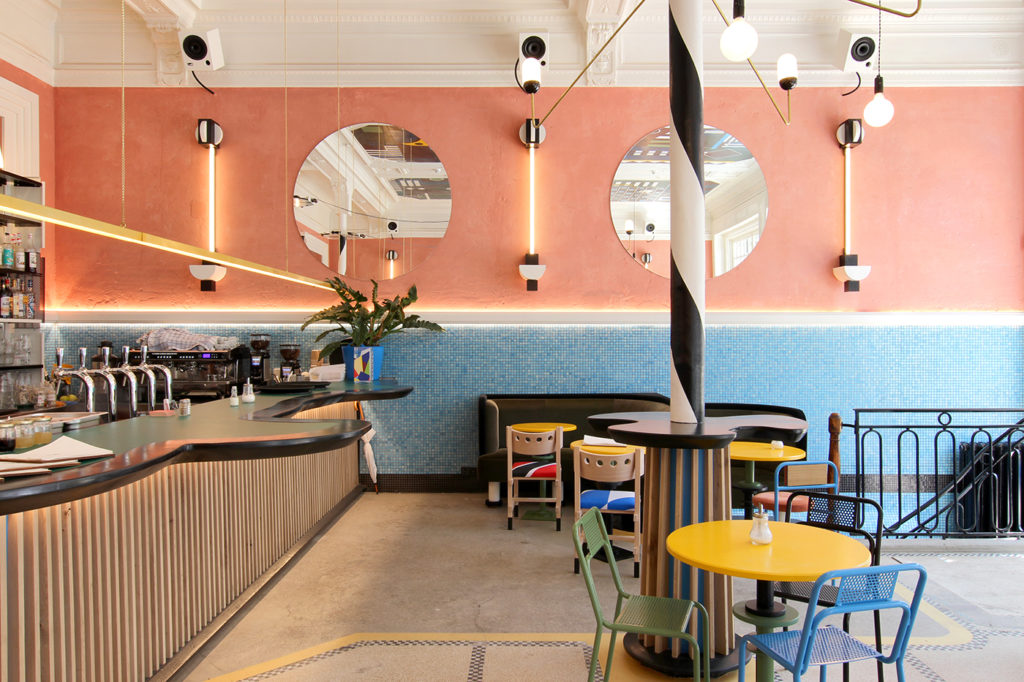 16 parvis de saint-gilles, 1060 Saint-Gilles
facebook page
from tuesday to friday from 10am to 11pm
saturday to sunday from 9:30 till 11pm
evening snacks : 6,50€ – 15€
cocktails : 7€- 10€
The renovation of the magnificent Aegidium building, completely abandoned in the late 80's, had been long overdue. Built in 1905 in the center of Parvis de Saint-Gilles, with its beautiful ballrooms and theatres, its main purpose used to be highly cultural. Today, we can only find what is left of it, with beautiful bits and pieces of mural paintings, stained glass or original tiles. At its front, right on the Parvis, a mythical bar used to stand: Café Flora.
After being transformed into a bank, a mutual, and a bunch of other things, the renovation of the initial Café Flora was a huge step in this much larger renovation project. Behind the controls: Thomas and Pascal, whose faces we directly recognize from Crab Club and Dillens, among others. After working as managers in numerous restaurants and bars in Brussels, the two friends had been dreaming of opening their very own bar. In 2018, they launched "T'es pas Prêt", as a test pop-up on the same premises, to validate their project. Helped by the famous architect Lionel Jadot and the furniture designers J&J Atelier, they finally reopen a brand-new and shiny Café Flora in 2019. The space is huge and impressive; its colorful velvet touches remind us of Milanese design and its furniture of the Memphis design movement from the 80's. Food and drinks-wise, the bar and kitchen are open from breakfast (from €4 to €9,50) to cocktails (from €7 to €10).
From the Parvis, Café Flora is hard to miss: its bright yellow terrace shines from early morning until nightfall.