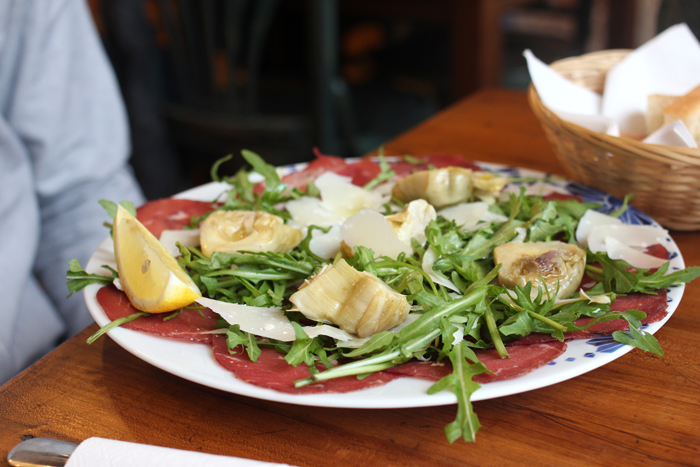 80 RUE DE NAMUR, 1000 BRUXELLES
02 534 21 55 – SITE WEB – delivery
OUVERT DU LUNDI AU MARDI DE 11h30 à 15h
DU MERCREDI AU VENDREDI DE 11h30 à 22h30
ET LE SAMEDI DE MIDI à 22h30
Via Balbi is somewhere halfway between an little lunch joint and typical Italian trattoria. A few bright green tables and chairs on the pavement points out the location of the restaurant. Once passed the main door, the idea of fast-food lunch directly disappears, replaced by a huge blackboard, filled with tons of suggestions written in Italian, and explained by the owner with a charming accent.
Antipasti and mozzarella plates, specialties from the Liguria region, fine groceries, homemade foccacias and eventually their famous pasta!
The specialty is the trofie, a short and twisted pasta served with homemade pesto, green beans and potaotes. I was just so intrigued. The result was simply amazing. The foccacia was also to die for, plain with seasalt served with the antipasti plate, or garnished with grilled vegetables. The tiramisu (alcohol free) is a pure bliss, but you should be at least two of you to finish it!
It's simply what was missing in this neighborhood, quick and unpretentious, and a real revelation about Liguria's finest produce and recipes.