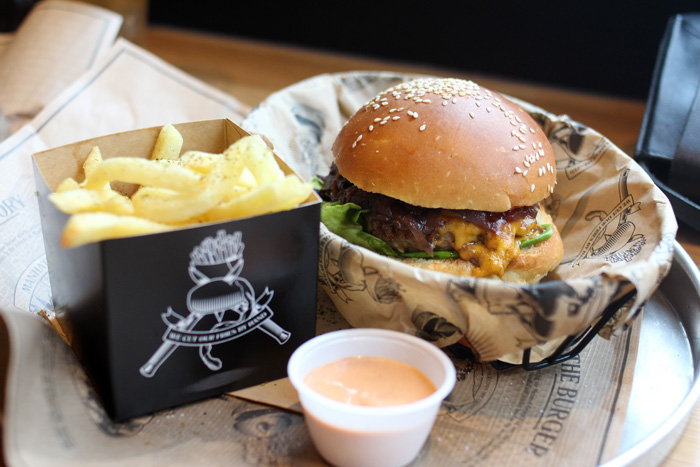 164 AVENUE LOUISE, 1050 BRUXELLES
NO RESERVATIONS – SITE WEB
OPEN 7 DAYS A WEEK FROM 11:30 TO 10:30PM
There is a New Yorker in every city, here is a quote that directly sets the tone.
We can undeniably talk about a success for Manhattn's, where every single detail will make you project yourself directly in New York. Even the line, only 5 minutes long, has something that gently reminds us of the Shake Shack. And so had the buzzer, which lightens up as soon as your order is ready to be picked up at the counter, just 5 minutes after it has been placed. Needless to say that time-wise, they could hardly do a better job.
But it's really the 100% inspired menu that makes us come here. From the ice-cream cookies and the mikshakes to even the Godfather deal, which lets you add a drink and fries to your burger for an extra of 5€. But above anything, the burger, simply remarkable. The crispy bacon couldn't be crispier, the cheddar still melts when you bite into your burger, the tomatoes are juicy, the onions perfectly caramelized, the beef has been grass-fed then matured, and the cooking of the meat is perfectly done. But what really makes the difference is the brioche bun, soft and juicy, inspired by a recipe coming straight from Little Italy. It's simply really, really good.
The setting pushes the concept even further, with big red brick walls, long wooden tables to share, a counter and stools to eat on the go while watching passers go by, and a big open kitchen, topped with a huge menu in black and yellow letters. You could say without a doubt that Manhattn's is a fast-food. But if you had to remember one place for burgers in Brussels, it is without a doubt the place to go.