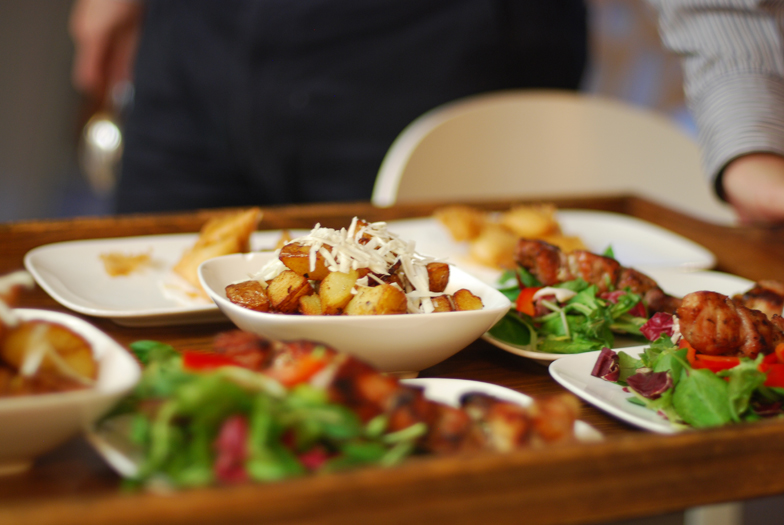 11-13 RUE DU MARCHE AUX PORCS, 1000 BRUXELLES
TEL: 02 512 32 93 – SITE WEB
OPEN FROM tuesday TO friday FROM 12 TO 2:30PM, AND FROM 7 TO 11PM
CLOSED ON SATURDAY and monday FOR LUNCH, AND ON SUNDAY
I don't know if we've told you before, but we just don't know that much restaurants in the center.
Most of the time, we end up probably just like you guys ; shit, where are we gonna eat now?
That's why this blog was born and that's also why we decided to try this address.
Strofilia is a greek restaurant opened for thirteen years now, in the Sainte Catherine neighborhood, few steps away from Rue de Flandre.
It's a gorgeous place with red brick walls and a huge wine cellar from the 17th century.
To celebrate their ten years anniversary, they decided to renovate the first part of the restaurant, to get something a bit more modern. The result is great, with wine case panels on the walls, white furniture and huge colored columns, and spaces with natural light coming directly from the transparent ceiling.
We had the opportunity to come here during the Resto Days, where a selection of restaurants in Belgium prepare special lunch menus for 21 euros and dinner menus for 28 euros. So we won't be able to be completely objective about the prices, but we still do have our little idea about the quality.
To start off, we had two little greek caviar toasts, and black olive tapenade.
Then we received a cold mezzo assortment to share : a spinach salad with squid and shrimps, fried calamari, two chickpea balls, a combination of tzatziki, eggplant caviar and white fish egg tarama.
A real delight, and once done, we already felt pretty full, and yet we still had hot mezze and dessert to come.
There were lamb, pork simmered for three hours in olive oil, served on a celery puree, two feta wraps, roasted potatoes with sheep cheese.
The lamb was particularly great, the fried calamari also… actually, we really loved everything.
Great place where we warmly recommend you come with friends, so that you can order lots of different things to share, and lower the bill a little bit too.