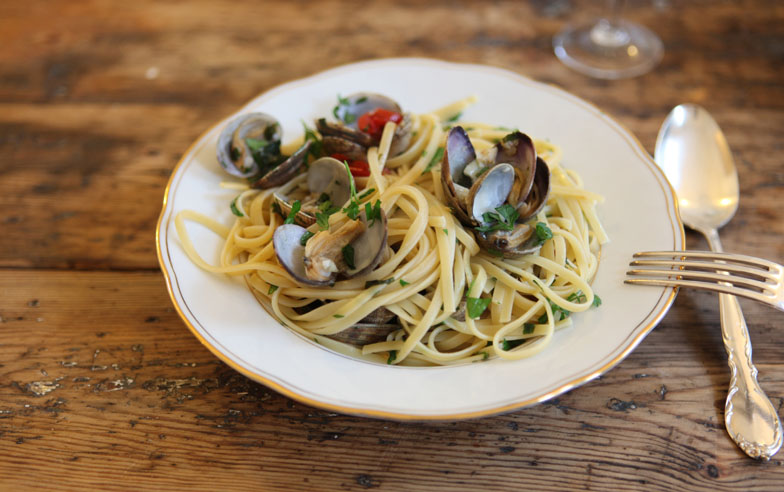 This summer, we went on a road trip on the Northern Spanish coastline, from little village to little village. Our first stop was in Cadaques. We ate tons of seafood : huge shrimps, razor shells, prawns, and clams.
Today, I went in a little spanish fish shop, which we will tell you more about soon, and I felt like cooking those little clams we ate last summer, but this time with linguine, italian style.
We miss summer, the weather is shitty and here is a recipe that sends us back directly to the beach. A really easy recipe too, the only thing you'll need is to get hold of these wonderful vongole.
For 4 people you'll need:
– 500gr of linguine
– 1kg of clams
– 5 pretty big garlic cloves
– two handfuls of flat parsley
– a dozen cherry tomatoes
– white wine
– olive oil
In a wok, heat up the olive oil, add the garlic and let cook for a few minutes. Add a glass of wine and a handful of parsley. Add the clams and let them cook until they open. It's really important not to use those which might already be opened, they're simply not fresh anymore. They're gonna open one by one, and you'll have to get them out. Keep them in a plate, and during that time, cook the pasta.
In the wok, add half a glass of white wine, the cherry tomatoes cut in three and a bit of olive oil. Let the tomatoes cook for a few minutes. Once the linguine are al dente, add them to the wok with the clams, the rest of parsley and mix everything together. Don't underestimate the amount of sauce for the amount of pasta you have. If it feels like not enough, add wine and olive oil.
Enjoy.