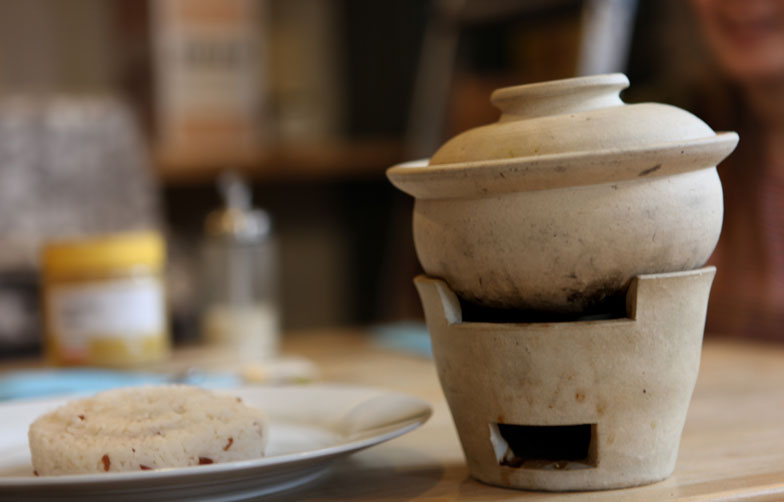 56, RUE KEYENVELD, 1050 BRUXELLES
PHONE: 02 513 71 84 – DELIVERY
OPEN FROM MONDAY TO SATURDAY FROM 10AM TO 3PM
Although it is still very much secret to most, L'Epicerie is always highly appreciated by those lucky enough to have come across it. A place out of time, located at the back of chaussée d'Ixelles. From the window, you'll spot fruit and vegetable baskets, as well as a big old iron scale. Whenever customers come out the door, a delicious smell of lemongrass takes over the little street corner. Inside, you'll discover a real neighbourhood grocery shop, with shelves filled with the most common products : organic Yogi tea, fruit juices, but also Lays chips or Galak white chocolate tablets. A surprising combination of items which makes us smile every time we come.
On the floor, the original white and blue tiles were kept, and on the walls, paintings and old photos are pinned. On the radio, a Spanish song is playing. We make our way to one of the little wooden tables, to have a look at the menu. L'Epicerie is not only a grocery shop, it's mostly a place to enjoy a delicious lunch. The daily special, the same dish since we can remember, a green curry with chicken meatballs, vegetables and lemongrass, is the main reason we come. You can also order delicious parma ham and guacamole sandwiches, but you'll have to brace yourself with patience. The guacamole is entirely minute made by the Thai owner, who puts all of his heart into it. This man is a true ray of sun, and will always greet you with the biggest smile, and treat you as if you were his very first customer. A real gem.