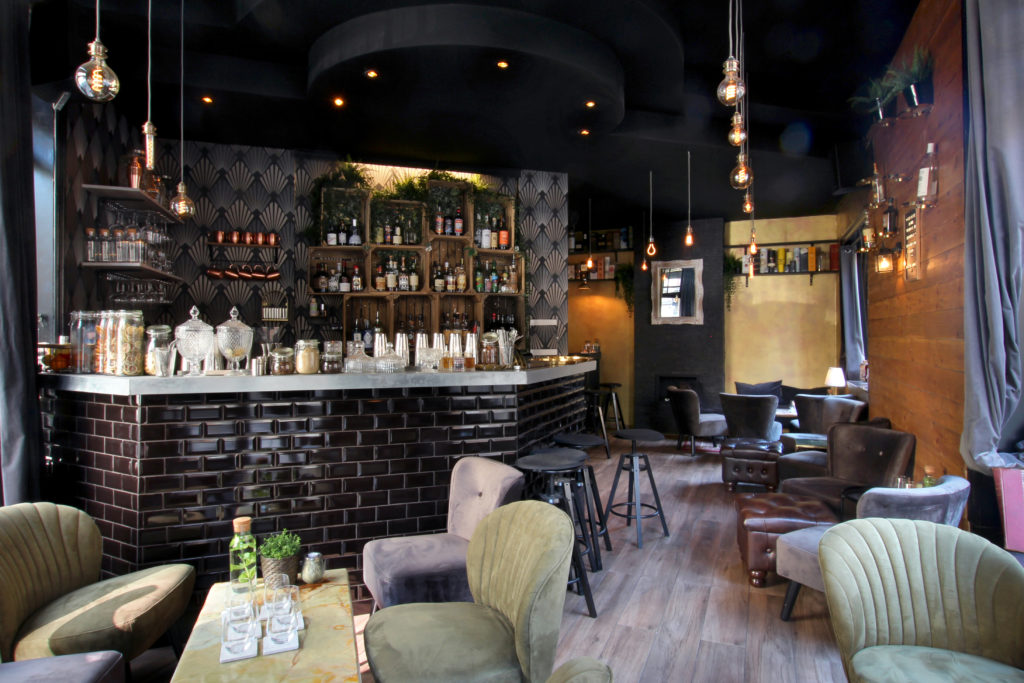 2 rue josse impens, 1030 schaerbeek
02 307 37 31 – site web
from tuesday to saturday, from 6pm to 11pm
Cocktails: 8€ – 13.50€
Inside, it feels as though we're in a speakeasy dating from the prohibition period in the U.S. back in the late 20's. The wallpaper, the barman's suspenders, the gramophone by the window and the huge vintage tv transformed into a high table all highly contribute to the feeling. We immediately feel like taking place at one of those low marble tables, in this cosy and intimate venue.

On the menu, a short list of cocktails: 7 signature cocktails, 7 classics (from 8 to 13€), and two mocktails (6€), making it easier to make a decision. We let the waitress guide us and order the weekly special, a Umami cocktail made from Tequila, mango shrub and soy sauce. Romain tells us how he loves picking flavors for his cocktails in the food he discovers. For this one, he was inspired by an Asian dish. He cooked mango with shallots then let the mixture macerate in sugar before adding wine vinegar to it. The result is just delicious. His specialty: anything that can be homemade in his workshop below. Shrubs, syrups, fruit juices, liquors and infused alcohol; nothing's is forgotten, not even the homemade aquafaba saved from the homemade humos. But what he wanted most when opening Ethylo was the ability to offer quality spirits, which he just loves selecting, at affordable prices. Before opening the bar with his two partners, Romain learned a big part of the job at Green Lab. Then, at Copain, close by, where he quickly realized that the demand for cocktail in the area was really high. A good thing and a perfect timing too, as he had been dreaming of opening his own cosy cocktail place for 5 to 6 years already. And this how Ethylo was born.