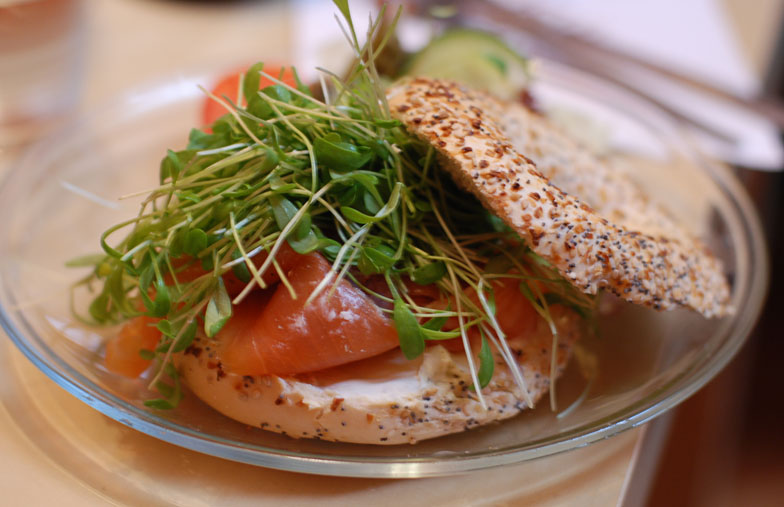 42 AVENUE JEAN VOLDERS, 1060 BRUXELLES
PHONE : 02 539 01 51 – SITE WEB
OPEN EVERYDAY FROM 8:30 TO 6PM, AND FROM 9 TO 6:30 ON THE WEEKENDS
"Le Pays des Merveilles", or Wonderland in english. We've known this little bagel paradise for a while now, and I'm sure a lot of people from Brussels also do. So today it's more a tip for the non-"bruxellois", or the last ones who still don't know the place.
It was one of the first bagel restaurant of Brussels. And for us they still serve the best in town.
Here the choice is large. And the cool thing is that you get to pick your bread ( classic, sesame, cinnamon-raisins, olive – red oignons…) and your cream cheese (chives, classic, etc.).
They also have a million suggestions and different products. Meatball, smoked trout or mushrooms, and seasonal suggestions like "tartiflette bagel" in winter.
The place is open from breakfast till late afternoon so it's perfect if you wanna eat late.
For me most of the time it's the classic salmon-creamcheese, a sure choice, and sometimes I order the chicken-guacamole or the cream cheese-truffle oil-chicken-eggplant and parmesan cheese. The best thing ever. They also have a wide range of all american products such as cupcakes, carrot cake, cheesecake, cookies or even fluff, a huge jar filled with melted marshmallow dough. Great for an afternoon break.
The first born is next to the Parvis de Saint Gille, and their second address where the pictures were taken is now closed. Their newborn just opened Avenue Louis Lepoutre near Brugmann with a beautiful terrace.