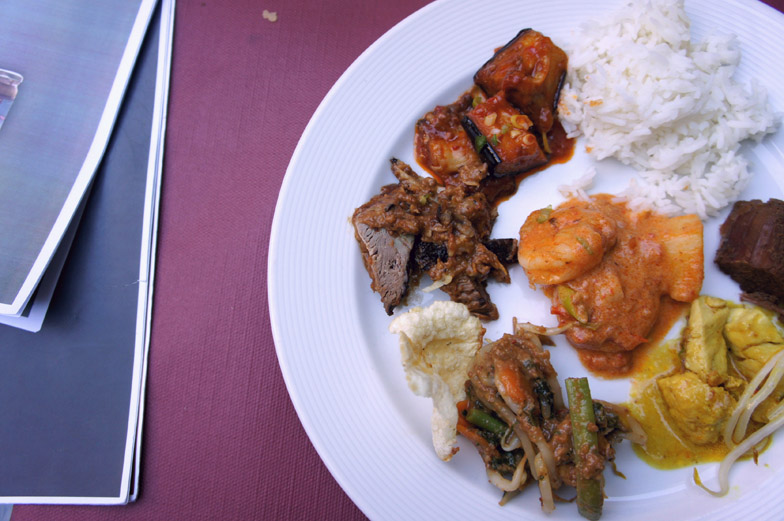 25 AVENUE ADOLPHE BUYL, 1050 BRUXELLES
TEL: 02 513 05 92 – SITE WEB
OUVERT DE MIDI à 14h30 ET DE 18h à 22h30. FERME LE DIMANCHE
Last night we were invited by the agency Inoco with other bloggers at the Garuda. The weather was finally incredible, the restaurant had been on our list for a while, it was like their terrace was waiting for us. Once we got there, we got the cocktail of the house, malibu, pisang and aloe vera. It was just perfect.
After, we had the chance to try a bit of everything.
The Garuda now actually sells their own sauces. Same as in the kitchen, but industry made, signed by the restaurant's indonesian chef, and without any conservatives. So we had the occasion to try quite a few of the dishes on the menu, with the peanut, and chili sauces they prepare.
To start, we had chicken, beef and shrimps satés with peanut sauce, and a vegetable fried spring roll served with their chili sauces and a sort of sweet and sour indonesian sauce. The peanut sauce is to die for. I've never eaten a better one before. Seriously.
After, an assortment of colorful and savory dishes. Soft curry chicken, beef with black soya sauce, gado-gado, red curry shrimps, (at least I think it was), eggplants with a sweet and sour sauce, grilled duck with peanut sauce, and sweet and sour fried calamari.
I think I've got it all! Evrerything was really delicious, especially the eggplants, duck and fried calamari that were soo tender. I'll definitely go back for them. Indonesian cooking is like no other, and this one comes from the region of Bandung, west of Java island.
To get the chance to try a bit of everything, and because it's really the funnest thing to do, I'd recommend you to go as a group. They also serve rice tables from 25 euros per person, with a soup, eight dishes, and a dessert.
And for lunch, they serve daily specials with a starter and a main course for 11,90 euros.
You can also get their delicious food delivered straight to your door here.