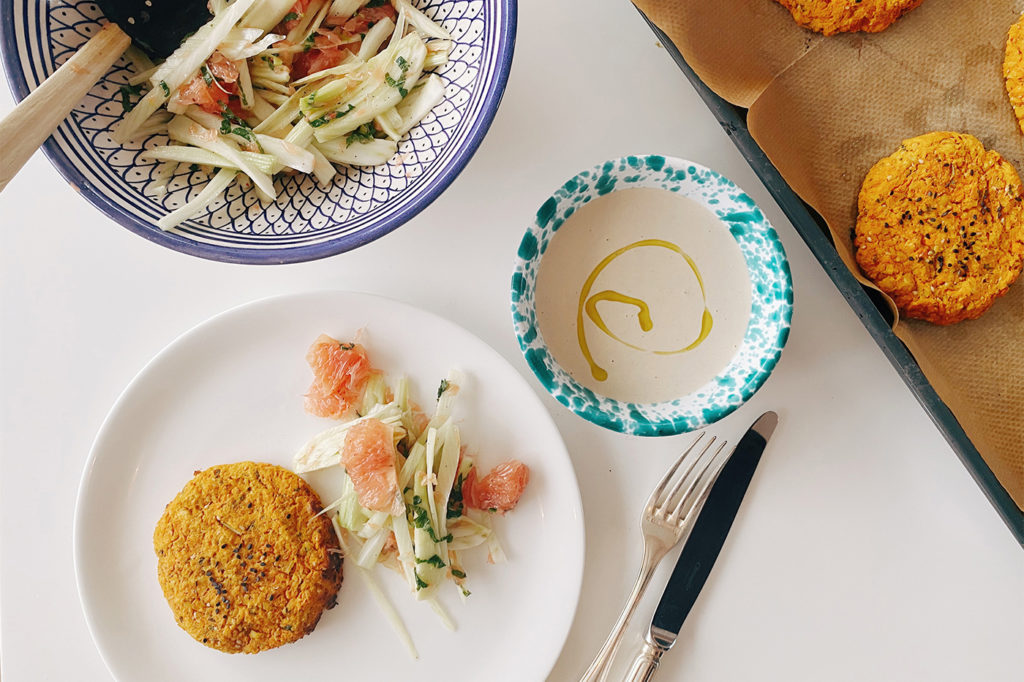 For 4-5 burgers (2 people)
2 sweet potatoes
1 small can of chickpeas
1 red onion
1 large clove of garlic
1 lime
5 tablespoons of corn flour
coriander or fresh flat-leaf parsley
salt
pepper
olive oil
cumin
1 small fresh chilli pepper (if you like spicy)
black and white sesame seeds
For the sauce
Tahine (advice: "Al Arz Tahini" at the Delhaize,
"Sebahat Tahin" in Moroccan grocery stores
or Turkish or "Horizon witte Tahin" in organic shops)
1 lemon
1 clove of garlic
salt
sumac (optional)
The salad
1 fennel
1 grapefruit
1 red onion
1 bunch of fresh mint
1 lemon
Utensils
blender
stove poêle
large bowl
whip
garlic press
knife
cutting board
baking paper

Last Thursday, we made sweet potato and chickpea burgers during Simona's live cooking class. It was the bomb.
A lot of you asked me for the written recipe, here it is! It's vegan, super healthy, and above all really delicious and easy to make. Enjoy !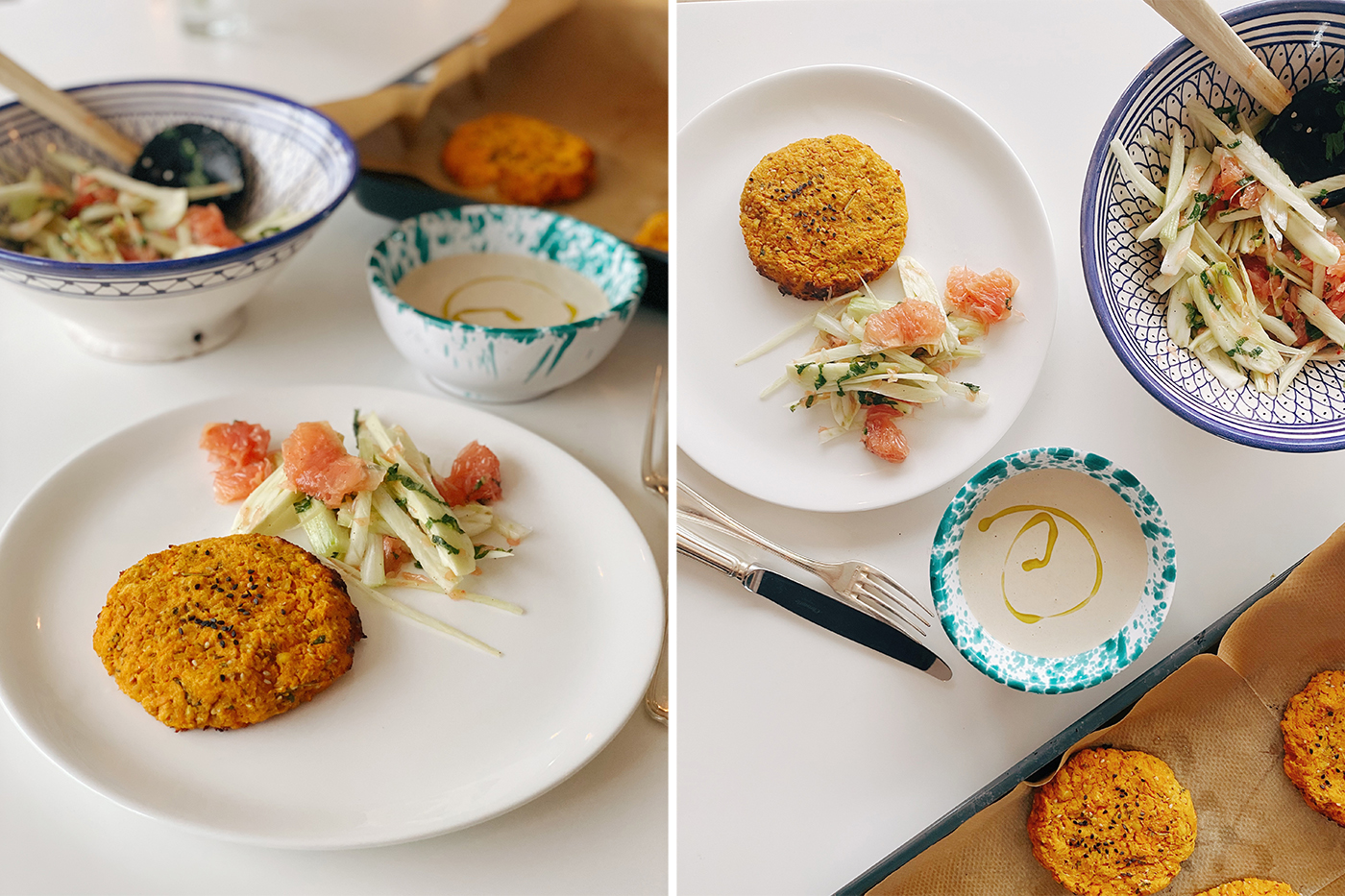 Sweet potato and chickpea burger with tahine sauce and grapefruit and fennel salad
Preheat the oven to 220 degrees. Remove the tray from the oven and cover it with baking paper.
Bring a pot of water to the boil. Peel and dice the sweet potatoes and cook them for about 20 minutes in boiling water. Check the cooking from time to time. As soon as they are cooked – they should be soft enough to be puréed – drain and set aside.
Use a large blender or a hand blender – otherwise a hand potato masher and a big bowl will do just as well. Blend the sweet potatoes, drained chickpeas, chopped coriander, finely chopped red onion, pressed garlic clove, the juice of one lime, 5 tablespoons of corn flour (or maizena flour or breadcrumbs), a teaspoon of cumin, a small finely chopped fresh chilli pepper, a pinch of salt, a turn of the pepper mill and a dash of olive oil. Taste and correct the seasoning, and add more cumin if necessary.
Prepare a bowl of water and the tray covered in baking sheet. Start by getting your hands wet, then form a large ball between your hands. Flatten it to form a burger and place it on the baking paper. Repeat, making sure to wet your hands between each burger. Sprinkle the burgers with white and black sesame seeds and bake for about 10 minutes.
Check the cooking: the burgers should have started to form a crust on the outside while remaining soft on the inside. When the desired doneness is reached, remove from the oven and do not touch for 10 minutes. It is crucial to let the burgers rest when they come out of the oven, otherwise they will break.
The tahini sauce
In a large bowl, pour 4-5 tablespoons of your tahini. Add water, little by little, gradually to the tahini, whisking vigorously with a hand whisk. The texture should become frothy, a bit like a crêpe batter. If the sauce is too liquid, add tahini, if it is too thick, continue adding water.
Once the desired consistency is obtained, add the juice of one lemon, a clove of pressed garlic, and a little sumac (optional), and continue to whisk well. Set aside in the fridge.
The salad
Cut the fennel in half vertically (from the young shoots to the base). Using a good knife or a mandolin, cut the fennel into very thin slices, and arrange the slices in a large bowl.
Cut off the grapefruit segments and add them to the fennel. Add the juice of one lemon, a few fresh mint leaves (between 5 and 10 large leaves, depending on taste), and the red onion cut into thin rings. Season with olive oil, salt and pepper.
Serve the burgers with tahini sauce and grapefruit salad. Enjoy!