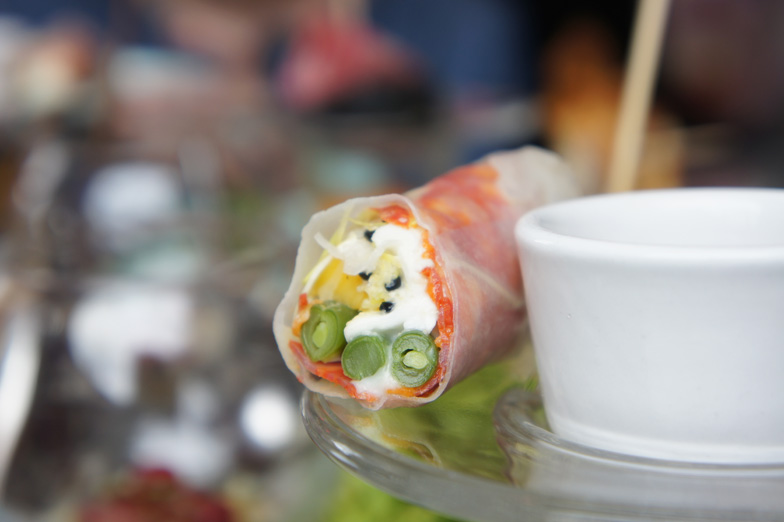 76 MAIL STREET, 1050 BRUSSELS
TEL: 02 880 59 84
OPEN FROM MONDAY TO FRIDAY FROME 12AM TO 16PM
SUNDAY FROM 11AM TO 15PM
We've been wanting to go to Pudding Rock for a while now. But it's not always easy to find the time when it's only opened for lunch, and during the week. Plus it was also a little budget, 26 euros for the "appetizers tray" we'd seen on the Facebook page.
But after our final exams, we thought we totally deserved it.
The place is like the hostess. A whole atmosphere you'll find in her cooking, but also in her dressing style and in the restaurant's decoration. Danièle opened this restaurant after two other ones but it is without any doubt the one that is the most like her. A scottish tartan curtain, a pink wall, a black one with a pink skull on it, girly touches everywhere. Everyday a few specials and the famous incredible tray that changes every week. Of course, for our first time, we didn't want to miss it. Nothing better to discover Danièle's world, or for me when choosing is hard thing to do.
We order, and check out Danièle's new cookbook while waiting.
Then arrives the famous tray, completely filled with beautiful things :
Asparagus cream soup with chive coulees, foie gras mousse with amaretto, jerusalem artichoke chips with hazelnuts and pistachios, pastis beef tartare with a potato waffle, herring caviar with vanilla whipped cream, mango and chorizo spring roll, braised and sweet chicory, mushroom custard with truffle, chicken lolly with coconut milk, red berries tabbouleh with homemade granola and green curry and orange blossom yoghurt sauce, black squid ink risotto, sweet potato coulis, foie gras and duck with red berries, and scallop with boletus coulis and mushrooms chips.
So many words and colors that make you dream. All put together with perfection. It looked and tasted amazing. Of course we liked some things more than others. Like the beef tartare, the jerusalem artichoke chips, the spring roll…actually pretty much everything. You can have a look in the video.
I still wanna go back and try her famous thai beef, or the goatfish with pink houmous.
A really good sport for lunch between girls, or for a real culinary treat. All the recipes are full of flavor, freshness and colors. And the book is just gorgeous, and probably will be our next little cooking investment!