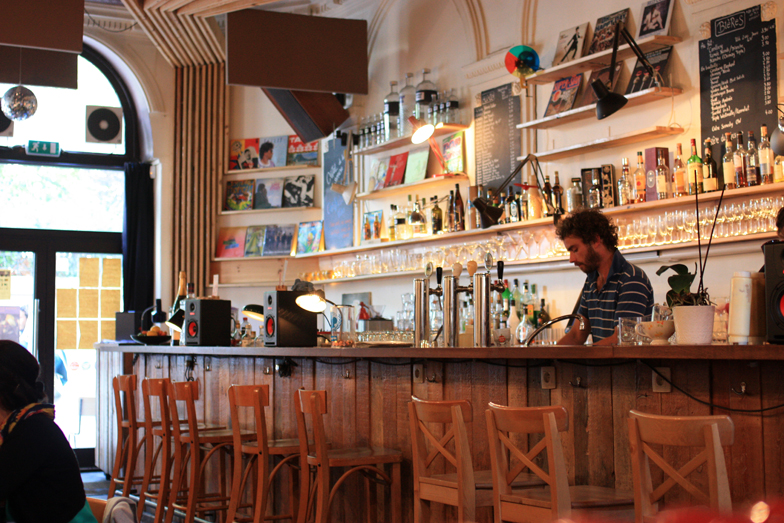 185 CHAUSSEE D'IXELLES, 1050 BRUXELLES
TEL: 02 325 73 53 – SITE WEB – delivery
OPEN FROM TUESDAY TO SUNDAY, FROM 11AM TO 1AM
I go there especially for their burgers. I mean, they're just incredible. They've got a huge selection, and most of them are completely crazy.
Around the world influences, but especially from south america. I've tried their Gringo burger and it was just amazing. Beef, salsa, jalapeños, cheese, tomato, guacamole, red oinions and cilantro. And for a change, instead of serving it with fries, it came with jalapeño poppers (fried jalapeños and cream cheese), sweet potatoes and sour cream. I was so pleased.
I can't wait to go back and try the rest. They've got here the most unlikely burgers which would convince any non-burger addict.
Classic american ones, italian influenced one, but also a pumpkin, nuts and mushroom burger (tough winter, that's its name actually), two vegetarian burgers with spinach instead of meat, one lamb, sweet potato, harissa and tzatziki burger, and even one with calamari.
They actually have got their own special quotes, it would be a shame not to tell you about them.
At l'Amour fou,
We work with fresh and quality products
Our burger buns are homemade
Our burger meat is grounded every morning
Our sauces are natural and without preservatives
Our fries are homemade
We offer the only homemade Banoffee Pie in Brussels
Our finger food is homemade
We have brunches every weekend and bank holiday.
There you go.
I haven't personally tried their famous banoffee pie yet, but with Sarah, we've tried a couple of brunch menus that were pretty good.
But it is not only a place to eat. Their cocktails are on happy hour every tuesday and wednesday from 6 to 8, and their week's special cocktail is for 5 euros on tuesdays. Which I do find pretty great.