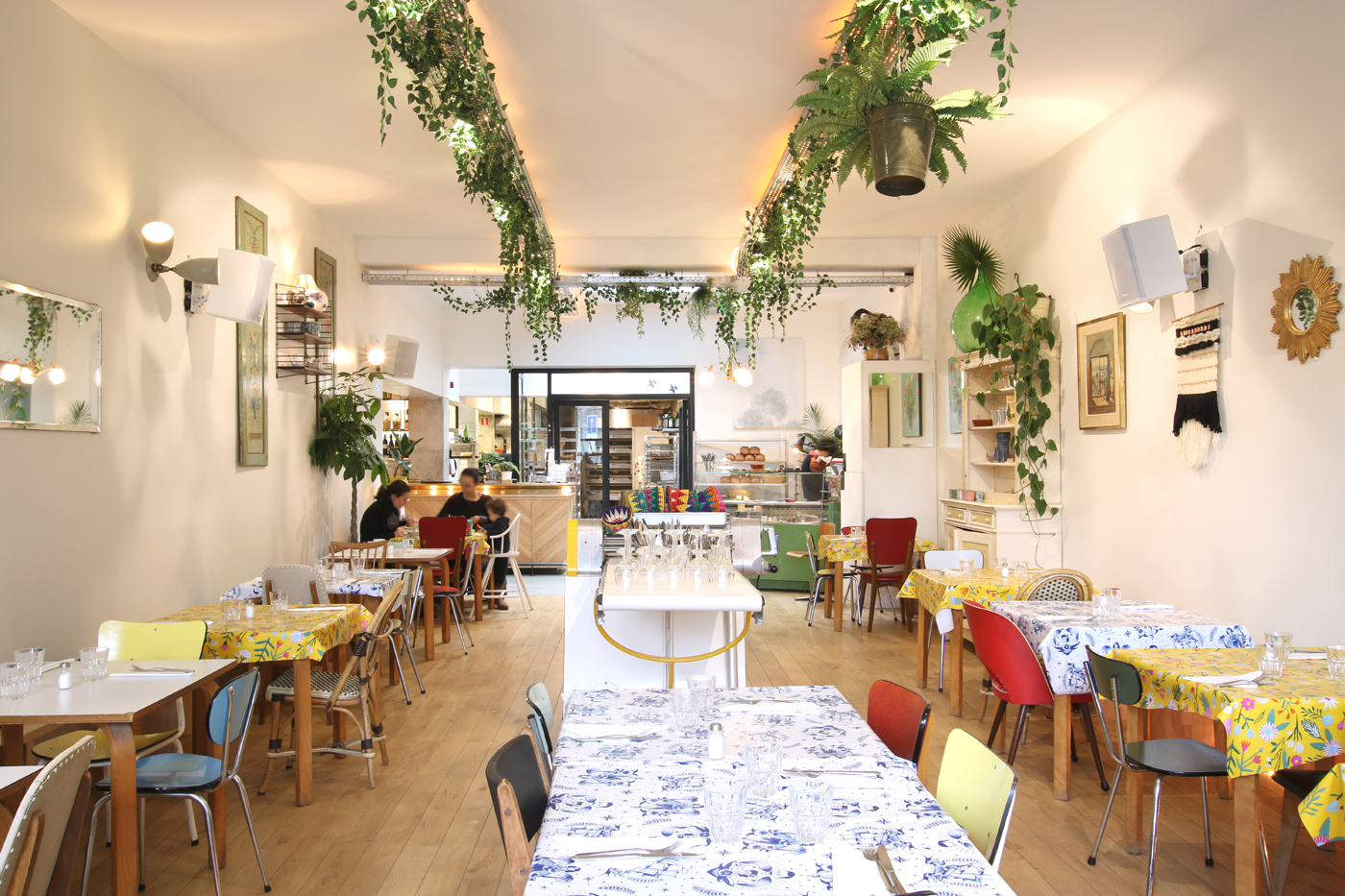 194 CHAUSSEE DE LA HULPE, 1170 WATERMAEL-BOITSFORT
02 230 10 57 – WEBSITE
OPEN FROM TUESDAY TO SUNDAY FROM 8:30 TO 11PM
A couple of streets away from place Wiener, facing the ponds of Boitsfort, Le Canard Sauvage is a new type of modern bistro. Opened by Géraldine and Aline, the multipurpose space welcomes customers from breakfast to dinner, always in a laid-back and joyful atmosphere. The main room is quite big, but this doesn't make it any less charming. Plants hang from the ceiling all the way across it, while colourful tables fill up the rest of the space, and a huge wooden bar with faceted lightbulbs links the entrance to the main room.
Most of their produce are organic, and always seasonal, putting vegetables and fresh herbs in the spotlight as often as they can. On the menu, two starters and two mains, changing every week, with always a vegetarian option and a starter + main combo for 16€. We tried the poultry pastilla with hummus and the tabouleh with wild greens, and both starters were fresh and full of flavors. But its the quail and Xixtora sausage duo that we still remember, served with seasonal veggies and sun-dried tomato juice. In the evening, the dishes on the menu are a little bit more sophisticated, like the veal tagliata with leek, lemon-sage butter and roasted potatoes (23€), or the eggplant and riccota pissaladière served with gnocchi (18€).
Next to the bar, a space dedicated to their very own bakery, where they prepare breads and pastries for the restaurant. A real bonus for Boitsfort's inhabitants, who can come pick up bread and croissants until late in the evening when the restaurant closes. On weekends, Géraldine and Aline organise all sorts of activities for kids, making it much easier for parents to enjoy their brunch in a relaxed and peaceful atmosphere.