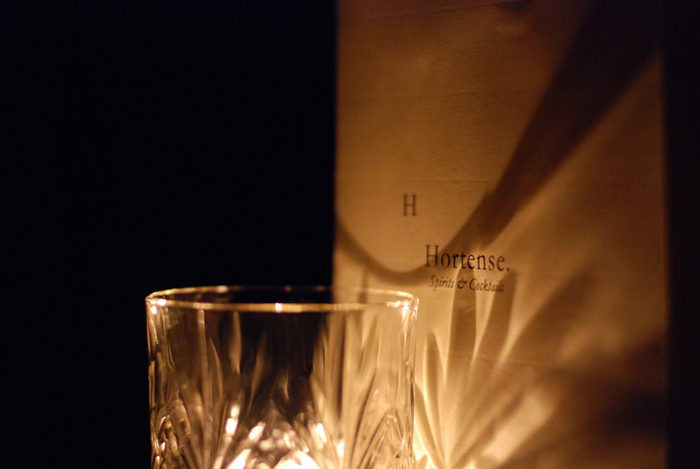 7 RUE DES SABLONS, 1000 BRUXELLES
02 514 43 47 – SITE WEB
OPEN FROM 7PM TO MIDNIGHT,
CLOSED ON MONDAYS AND TUESDAYS
Last Friday we discovered Hortense, spirits and cocktail bar, hidden in a tiny cave along Place du Sablon.
As we walk down the stairs, we discover a cave not unlike the one in the Wine Bar, dimmed candlelight contrasting with the natural light still coming from the tiny windows, and a whole universe that is still very unknown to us but that we're very curious about.
We were welcomed like princesses and were told every little detail about the menu, they were six cocktails, and all the other possibilities that we could create to match our taste. It just feels so great to be taken care of so well and to be able to watch every step of those cocktails in the making.
The Dessert au Neptune intrigues me particularly. It is directly inspired from a dessert that was much loved at the Neptune, like its name says. Grapefruit, blood orange and sloe gin.
Sarah picks The Other Woman, a cocktail based on champagne, Vermouth (the taste reminds of white martini's), and plum bitter.
They're both delicious and can be drunk pretty easily.
Pauline has picked something a bit more adventurous and surprising. The Smokey Sour, Tequila corralejo, Mezcal San Barnabas, lime juice and agave syrup. The Mezscal has a pretty strong smoked taste, and the drink is pretty interesting. Maybe just a little too much for us just starting to discover the wonders of cocktails.
We take our time, and enjoy or drinks while eating salt and pepper popcorns from a silver cup, and observing the candles lighting the cave's red brick walls. Finally we order a second drink.
Hours go by and four guys arrive and sit a bit further at the bar. They're handsome and classy. The kind that won't come and talk to you unless they feel you want to.
The whole context makes me think of an american movie. The kind of scene where a bunch of 30 year old girls are hit on by guys looking like Ryan Gosling. You wouldn't picture that kind of scene anywhere, but Hortense fits pretty well. With a more charming setting, and less bling bling.
We also hear that they organize privileged dinners, in the other cave behind the heavy curtain. They announce them on their Facebook page, they are 12 seats in total, and a different chef comes every time to cook and match his cuisine to the drinks served for the occasion.