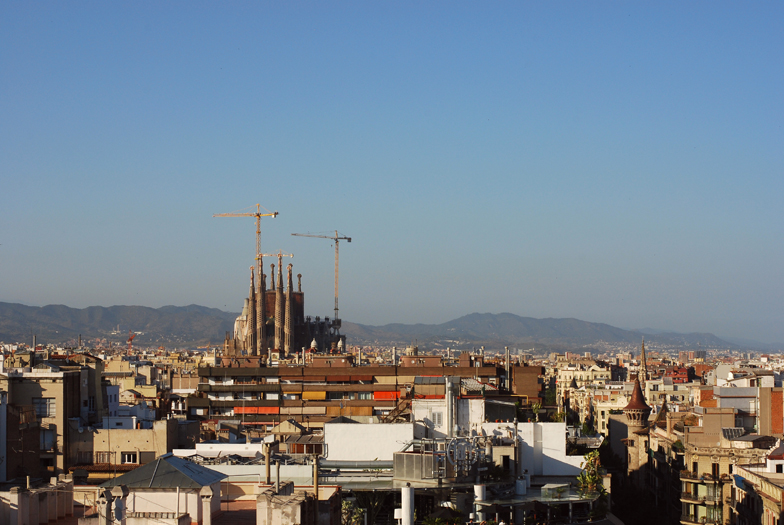 I just got back from Barcelona where I had the chance to enjoy the sun and really good food.
Not always easy to find good adresses to eat when you don't know a city. Bu I've been there a couple of times, I love that city and I've had the time to discover good and bad adresses. The owner of the little hostal I stay at each time is also here to give us good tips.
Barcelona, foodwise, is three things : tapas, fish and cava. But also a crazy architecture, a real mix of styles from Gaudi to Mies Van Der Rohe's pavillon, and to contemporary constructions such as the Agbar tower, or the Barcelona Forum.
My little tips :
-Walk around la Boqueria, is a must. A lot of colourful stands, and even though it is a touristy place, the locals go there as well for the great products you can find, like the fish or the ham.
– Walk around El Raval neighborhood (thank you Marine), filled with really nice boutiques and tons of restaurants.
– Go to the Gracia neighborhood, with very few tourists, and eat exellent tapas at Anxoveta, where the owner is adorable and the wines exellent. For dessert, buy an icecream at Ottimo, homemade icecreams with lots of delicious flavors like violet or tangarine, and eat it on the beautiful Villa de Gracia square.
– Rent a bike, and circle around Barcelona, and go to the Diagonal Mar park, and to the Tibidabo, and old amusement park.
– Go to the beach past the Barceloneta, it'll be less crowded and less touristy.
– Pic nic at Montjuic to enjoy a bit of quiet and freshness, swim at the Bernat Picornell pool then go down to Mies Van der Rohe's pavillion.
– Have a drink on the rooftop terrace of the Majestic Hotel. The drinks are pretty expensive but it's completely worth to check out Barcelona's night view.
– Get off at the Forum tram stop, walk across an almost desert space filled with impressive and strange buildings, sometimes half hidden in mist. Gorgeous.
Where to sleep:
Hostal Solyk : hostals are way cheaper than hotels and that one is particularly nice, the decoration is beautiful. It is held by french guys, who will be delighted to give you tips about places to visit. The double rooms cost 55 euros with a shared bathroom, which is not s problem as they are pretty big and clean. The only inconvenient is, the rooms over the little square are pretty noisy at night.