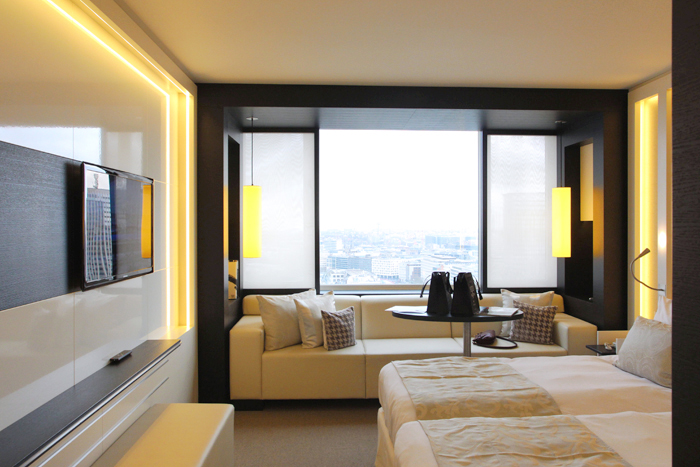 38 BOULEVARD DE WATERLOO, 1000 BRUSSELS
TEL: 02 504 11 11 – SITE WEB
It was two weeks ago, it was already too long ago. We'd been invited at The Hotel for the weekend, to try out their new Detox Pack. Think detox, think spa, massage and lying around doing pretty much nothing. Perfect program. And as the hotel was only a few streets away from both our houses, we thought we might as much do this seriously, and bring our whole house with us : running shoes, computers, swimsuits, photo equipment : all we needed for a relaxation weekend while working on Brussel's Kitchen. Best plan ever.
In the room, two pretty bags covered with a letter are laying on the table that separates us from the huge window offering an amazing view on Brussels. Two 1 day Jus Jus cures, cold pressed and filled with vegetable and fruit goodness, in pretty pretty bottles. We had already loved the experience and written about it here.
We grab a bottle each, slip into our bathrobes and slippers and head to the spa, before our massage. Three rooms are lining along the windows. Small salon, a room with long chairs to relax, and a sauna. Probably the coolest and unexpected sauna we ever tried. The backwall is nothing but a glass window, offering an amazing twist on the sauna experience, feeling warm and comforting while overlooking the whole city is quite cool.
Time for our detox massage, and there comes the surprise. We'd already pictured ourselves being massaged while sipping herbal infusions and listening to waterfalls and bird chants. But that's not what detox stands for in this particular context : here it means "fitness", which stands for getting rid of cellulite. Ouch. It hurts, really bad, for the first half an hour. Thankfully the second half hour is much softer, and we almost fall asleep on the comfortable massage bed. The lady explains every detail of the massaging process and has us quite convinced when we leave the room.
All our resolutions fly away after that one intense hour, and we decide to leave running for the another time. We still take a glimpse into their fitness room, which overlooks the city through huge windows like the rest of the hotel.
We spend the rest of the afternoon lounging in the spa, having a drink downstairs while working on our computers, and end up lying on our bed, completely disconnected from the outside world, ready to watch The Voice while finishing our last almond milk juice.
The Hotel may be just a few streets away from our houses, we just keep on thinking about coming back, enjoying the view, the comfort, and the luxury of this special hotel, and forget about all the rest.