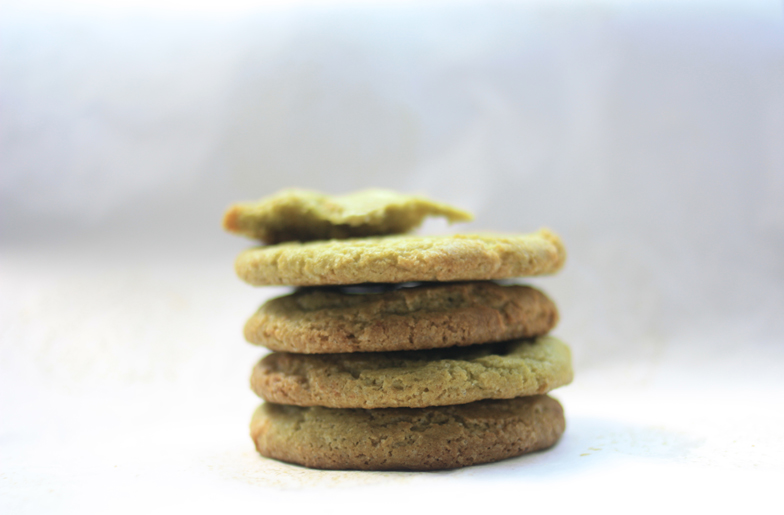 The fun thing with cookies, is that you can make them according to a specific taste. Personally, I just love the dark chocolate and pecan nuts cookies.
But here we tried a more colorful version. Matcha is the good ingredient to color your preparations (pancakes, madeleines, …) and to bring a subtle yet really good taste.
Ok it's really expensive, but as we use really small quantities, let's say it's ok for this once. (By the way, if anyone knows where we can buy it cheaper than at "Palais des thés", we're interested!).
Here we combined it with white chocolate, for the sweet side, and for the green and white color combination.
Ok so actually, to be completely honest, it's the amazing Jean and her "perfect cookies" who made us want to try these. We found out about her on Timai's awesome blog, that we are both completely crazy about. Freshness, love and joy, this is was Timai gives. And when she interviews someone, she never misses out on transmitting all those things!
Here is what it looks like, in video!
For 18 cookies you'll need :
90 gr of half salted butter at ambient temp. (so we never actually found half salted butter, so we just mix half and half salted and non salted. i know. clever)
100gr of brown cane sugar.
100gr of white sugar
a table spoon of vanilla extract
a whisked egg
175gr of flower
a table spoon of matcha powder
100gr of white chocolate
Preheat your oven at 180°C.
Mix the egg, sugar and flower. Add the vanilla extract, cut the white chocolate with a knife and add to the mix with the matcha powder then mix everything with your hands. Make perfect little balls (about 40gr each) and dispose them on the oven plate. Cook for 8 to 10 minutes. You have to get them out as soon as they start becoming brown on the edges. Often we feel like they're not cooked enough and are mistaken. They harden quite a bit when you take them out. Don't hesitate to get them earlier than too late if you wanna get that american soft and melting cookie feel.