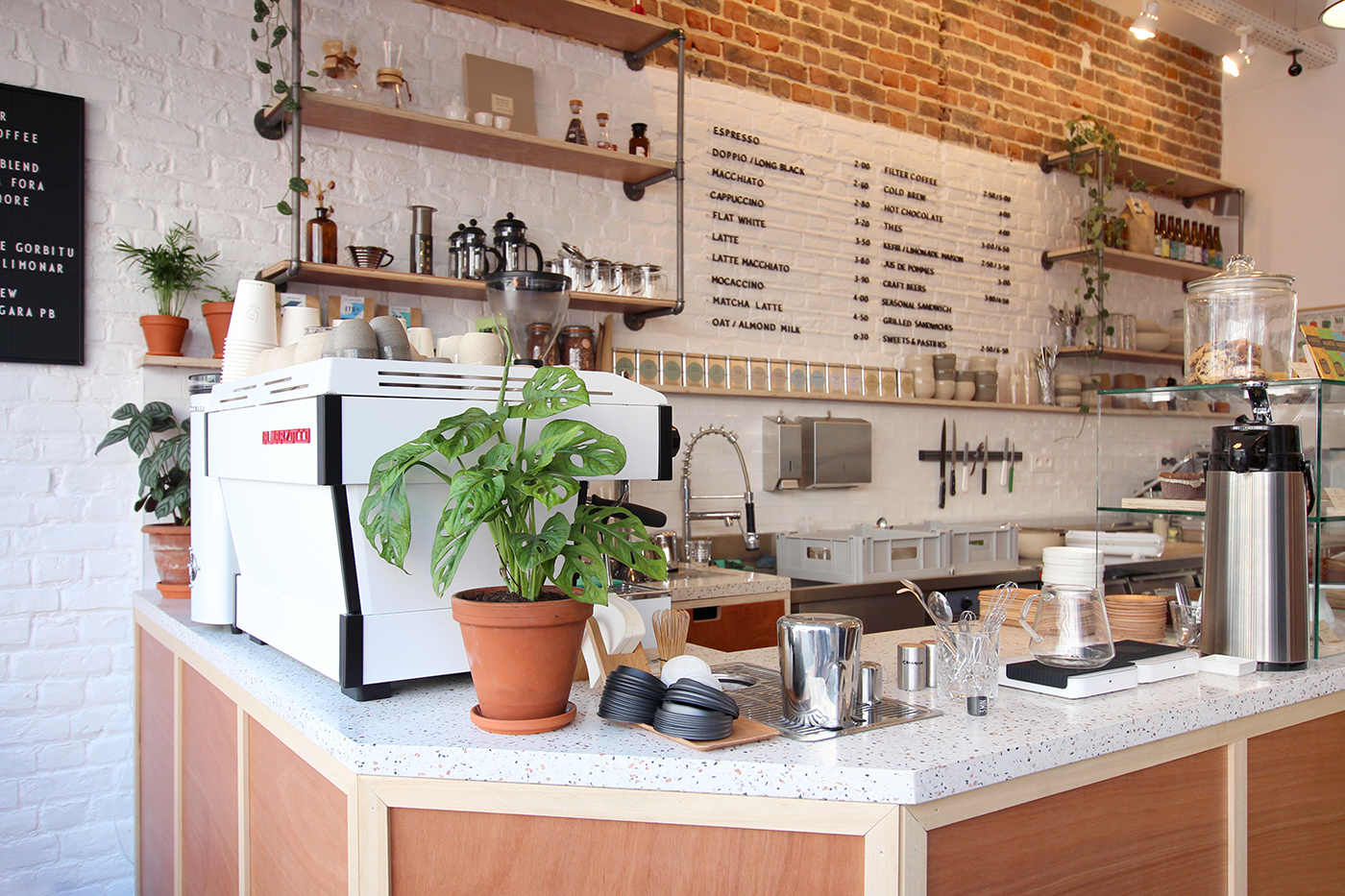 355 chaussée de waterloo, 1060 Saint-Gilles
instagram
du mardi au vendredi, de 8h à 17h
le samedi de 9h à 16h
En japonais, le terme Kami désigne les divinités, ou les esprits souvent cachés dans les animaux, la nature, mais parfois aussi dans les objets. Un clin d'oeil un peu porte-bonheur pour Clara et Elias, qui après s'être rencontré à L.A., ont eu un coup de coeur ensemble pour le Japon, puis ont décidé d'ouvrir leur bar à café à Bruxelles.
Chez Kami, on boit du café de spécialité, bio, d'origine, en importation directe et torréfié en Belgique. Ca faisait déjà 8 ans que le couple avait découvert cette nouvelle manière de produire et de consommer le café, où comme avec le vin, tout est question de terroir. Et ça faisait presque autant de temps que le projet germait dans leur tête. Après un an à se former comme barista chez Mokxa à Lyon, Clara maitrise aussi bien le sujet que les machines. Avec Elias, ils partagent la passion du café, mais aussi de bien faire les choses, en commençant par la base ; les bons produits. Le pain vient de chez Hopla Geiss, les pâtisseries vegan de chez Cookie Tree, la charcut' de chez Copro Bio. Bref, tout est bio, local et de saison. On a même eu droit aux premières fraises de Belgique, servies avec une compote de pomme-rhubarbe dans notre granola – mois de mai oblige. Déjà initiées et fans de café filtre, on trouve notre bonheur dans un café du Rwanda torréfié à Anvers, filtré dans une V60 et servi dans de magnifiques tasses signées Kim Verbeke. Le lieu n'a beau avoir ouvert que depuis deux jours, tous les détails sont déjà bien là. C'est joli, le café est très très bon et l'accueil de Clara et Elias juste parfait. Et il ya même un joli jardin plein sud à l'arrière.
Le nouveau QG de Brussels' Kitchen? Peut-être bien.
ENGLISH
In Japanese, the word Kami is used to refer to a divinity, or a spirit hidden in animals, nature or even daily objects. It's also a bit of a lucky charm to Clara and Elias, who after meeting in L.A., both fell in love with Japan before returning to Brussels to open their own coffee bar.
At Kami, they serve specialty coffee – organic, directly imported and roasted in Belgium. The couple has been convinced of this way of producing coffee – for which soil and climate matter just as much as for wine – for eight years already, had the idea of the coffee bar in their minds for about just as long. After training for a year to become a barista at Mokxa in Lyon, Clara now masters the machines just as well as the subject. With Elias, they share a passion for coffee, but also for things well done, starting with the basis: quality produce. Their bread comes from Hopla Geiss, the pastries from Cookie Tree, the cold cuts from Copro Bio. Everything is local, organic and seasonal. We even got to try the first Belgian strawberries, paired with an apple-rhubarb compote and served on granola – perfectly in line with the season. Already big fans of filter coffee, we were delighted by the Rwanda coffee roasted in Antwerp filtered in a V60 and served in beautiful ceramic cups signed by Kim Verbeke. The place has been opened for just two days, and yet everything seems to already be falling into place. The decoration is really well done, the coffee extremely good, and the warm welcome and explanations given by Clara and Elias are just the cherry on top. There's even a south-facing garden at the back. Brussels' Kitchen's new HQ? Might just be.