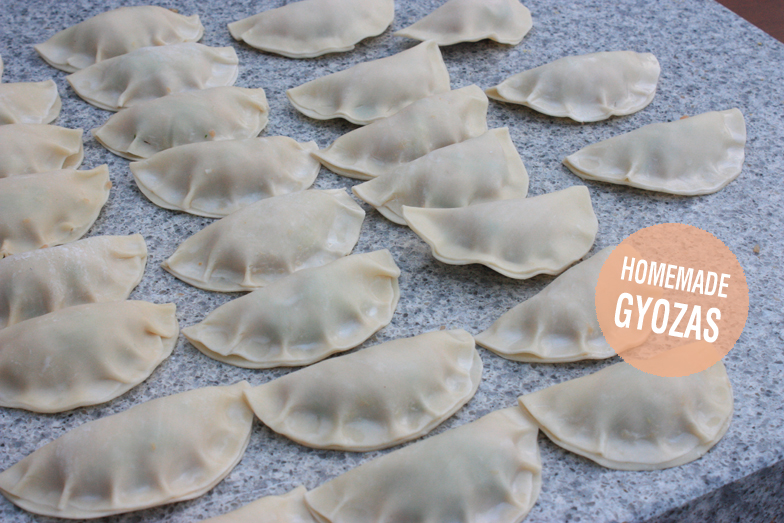 After Kokuban, here's the recipe of our own homemade gyozas. It's the kind of recipe that's easy to make but that makes you look pretty good. It's cool, it's good, but it does take a little time.
About that, we're gonna help you to save you some by buying already made gyoza dough. You can buy it at the chinese supermarket next to the Bourse. Sorry, we didn't take a pic of the packaging. The packs are small and round, yellow, and you'll find them in the freezers on your left, before entering the second room. Hope it helps and you'll find them!
For 25 gyozas you'll need :
– a pack of gyozas dough
– 200gr of minced meat, pork-veal, chicken or shrimp.
– half a chinese cabbage
– 3 spring onions
– a tablespoon of grated ginger
– a handful of cilantro
– 3 tablespoons of soya sauce
– 2 garlic cloves
– chili flakes
Mix the meat with the garlic, the cilantro, the ginger and the soya sauce. Make small balls and dispose them on half of the dough. Fold the sheet in two and stick the edges together with your fingers. Wet your fingers and press the edges, leaving your fingerprints, to really close the gyozas.
For the cooking, fry the gyozas in a frying pan, on one side only, with a bit of olive oil. Cover them halfway with water and let cook till almost all the water is absorbed.
Empty the remaining water, and fry the gyozas again. Make sure they don't stick to the pan, and add a little oil if necessary.