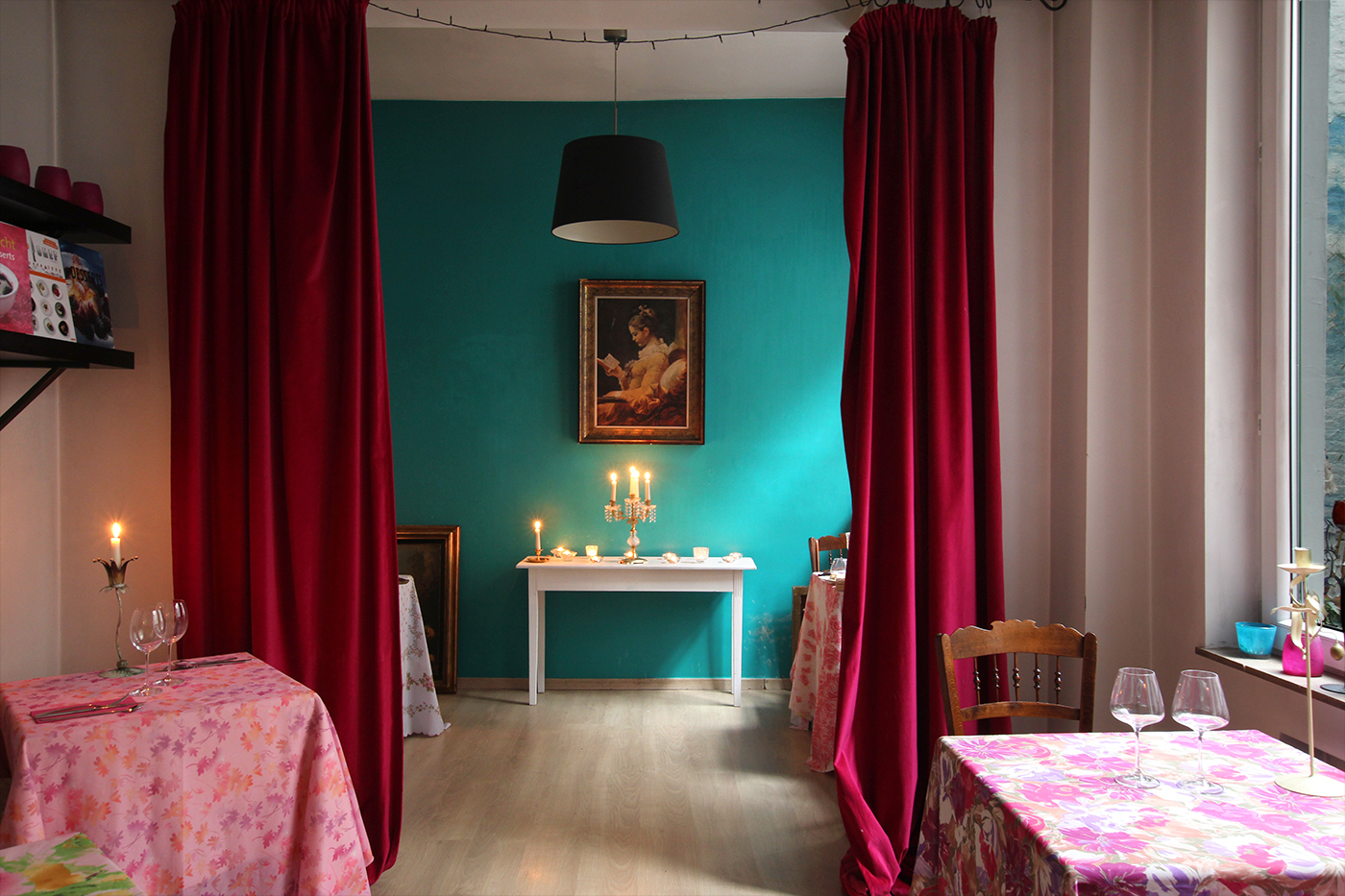 7 RUE DE LA REINETTE, 1000 BRUXELLES
0488 86 47 86 – SITE WEB
TOUS LES JOURS DE 12h à 23h
A lOmbre de La Ville is the perfect getaway to enjoy a romantic date until the end of the night.
This incredibly charming and tiny restaurant perfectly fits its name ; A l'Ombre de la Ville means in the shadow of the city. Hidden in a small paved street, perpendicular to rue de Namur, the window display itself is somewhat intriguing. Wrought iron chairs are arranged around a small table covered with a flowery tablecloth, with a huge flower vase on top, setting the tone for the rest of the venue. Here, you will love to be surprised, in a place completely out of time.
And it only just started. The first room, overlooked by a huge chandelier, also works as a pantry for the kitchen. The walls are covered in shelves and baskets, filled with vegetables and fruits that Sami carefully picks out every morning, then selects again at night every time an order comes in. We are welcomed here by his wife Maria, whose good mood and great smile is contagious.
We then cross a small room covered in black tiles, with a big counter and an open kitchen, from which we can spot Sami at work. When we first came here, it was a hot night of July, and we were placed outside, on the terrasse. I was meeting a friend after not having seen her for a month, and it was just one of these nights where time literally slipped between our fingers. We left the place around 1 in the morning, happy and completely charmed by this tiny jewel, that a little while before, we had still no idea existed.
A few months later, nothing has changed. Placed this time inside, we've got all the time we need to observe the pretty tables covered in colourful tablecloth, set with mismatched cutlery and wine glasses, giving the whole thing somewhat of a bohemian feel.
The menu is a reflection of the setting, we just want to try absolutely everything. The clams with white wine are absolutely delicious, and we almost regret that the menu has changed by the time we come back. We try the wild spinach with Porcini mushrooms (14€), the perfectly cooked scallops served in their shell (15€) and the calamari tagliatelle with herb juice (14,50€). Everything is delicious.
Already convinced by the lobster ravioli the first time we came here, we go this time for the shellfish ravioli (18€), served with an extremely light and airy sage cream. The combination is perfect, but we do miss a bit of generosity in the sauce, even though the presentation looks great. The wines are not left behind and are recommended by Maria, who puts all her heart into it.
Here, every gesture is minutely executed, with a lot of love and care, which requires a lot of time as well. Do plan to abandon your watch and your sense of time completely as soon as you step in, and let yourself go to the magic of the night.
We wouldn't have dreamt a more perfect place for a romantic evening, under the watchful eye of Samir and Maria, and the dim light of the numerous chandeliers.